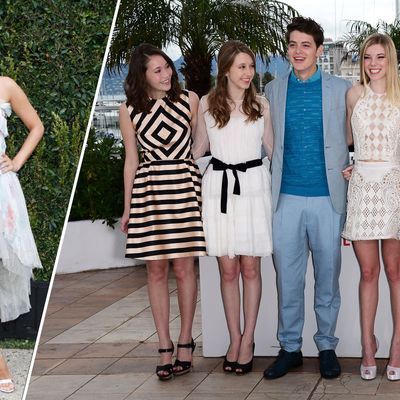 This Friday marks the New York and Los Angeles opening of The Bling Ring, Sofia Coppola's film about those L.A. teens who stole millions' worth of designer clothing, jewelry, gadgets, and cash from celebrities including Paris Hilton, Rachel Bilson, and Orlando Bloom. Allegedly led by Rachel Lee, a high-school student in Calabasas — a wealthy suburb in the Valley — the kids would read gossip blogs or social networks to find out when their celebrity targets would be traveling. Then they'd walk right up to the front doors of their Hollywood mansions, often finding them unlocked or with keys under the doormat, and proceed to raid the place, especially the closets. Though the ring was first exposed by trashy tabloids, Coppola based her script on a 2010 Vanity Fair article by Nancy Jo Sales, who joined in on the Hollywood buzz by consulting on the project and using her extra reporting to expand her story into a book, which the Cut has exclusively excerpted here. Below, follow and learn as Lee and her main accomplice, Nick Prugo, invade Rachel Bilson's home repeatedly. —Erica Schwiegershausen
In the first two weeks of May 2009, the Bling Ring burglarized Rachel Bilson's house five times. They went back again and again, trying on her clothes, looking through her things. They put on her makeup and examined her jewelry. They went "shopping" and then decided they wanted to go shopping again. "Ms. Bilson was probably the most emblematic of how this group typically worked," Officer Brett Goodkin told the Grand Jury on June 22, 2010, "where the accomplice," allegedly [Rachel] Lee [the group's ringleader], "identified [Bilson] as a target and [Nick] Prugo went to work and they committed numerous burglaries all within an approximate two- to three-week period."
By now, they had gotten it down. Rachel picked Bilson as the next victim on her list, Nick said. "She loved her clothes." Like so many young actresses today, Bilson, then 27, was admired as much for her fashion sense as for her work. She appeared at events in an array of dazzling gowns and around L.A. in unfailingly eye-catching ensembles. She was the object of many a "style-crush" among young women. She had a vintage, boho style which she told reporters was inspired by Diane Keaton and Kate Moss. In 2008, she worked with DKNY Jeans to create the junior sportswear line Edie Rose.
Ever since the fashion world success of Paris Hilton, P. Diddy, Jennifer Lopez, and other celebrities, having a clothing line — one of the potentially most lucrative franchise opportunities for a personal brand — has become de rigueur for starlets and reality stars alike. Mary-Kate and Ashley Olsen, Jessica Simpson, Nicole Richie, Britney Spears, Miley Cyrus, Lauren Conrad, Selena Gomez, Mandy Moore, Kelly Osbourne, Hillary Duff, Whitney Port, and Avril Lavigne all have had lines, to name a few. In 2010, Women's Wear Daily reported that The Jessica Simpson Collection had become the first celebrity clothing line to top a billion dollars in retail sales. Simpson's reality and fashion stardom would seem to suggest her as an object of Bling Ring interest; but they never targeted her. "Rachel would never, like, carry a handbag that wasn't made of real leather," said Nick, referring to Simpson's more downscale merchandise.
Rachel Bilson, on the other hand, offered Rachel Lee a whole sleek package of things Lee admired: she was beautiful, stylish, famous, rich, designed for Donna Karan — plus they had the same name. "Rachel-Rachel," Nick said. "Rachel identified with her." Both Rachels were from the Valley.
Nick did the research. He found out the location of Bilson's four-bedroom, 3,662-square-foot home in Los Feliz, an L.A. neighborhood popular with Young Hollywood. Bilson had purchased the white Spanish-style house for $1.88 million in 2006, three years into her role as Summer Roberts, the unashamedly shallow rich girl on The O.C. (2003-2007). When the Bling Ring kids were robbing Bilson, they were also robbing Summer — which for them, it seemed was a form of flattery as much as it was a crime; the character was the embodiment of the sarcastic, slack-mouthed, eye-rolling mode of discourse ("Seriously?") so prevalent now among teenaged girls on television and, consequently, in real life.
Nick and Rachel scoped out Bilson's house, Nick said, doing their usual reconnaissance. Sometimes they just sat and watched with binoculars, and sometimes they did leisurely drive-bys, casually searching for clues about how best to get in and do the job.
For a couple weeks, Nick checked on Bilson's comings and goings around L.A. "This was their operating norm," Officer Goodkin told the Grand Jury. "Mr. Prugo would go to work with doing his kind of back-office research on the Internet, finding out where that victim lives, where is the primary resident, and then culling through Internet source stuff to determine is this a victim that travels a lot, is this a victim that's not home very often." Nick discovered Bilson was planning a trip to New York for a couple of weeks with her then fiancé, Shattered Glass (2003) star Hayden Christensen. As soon as the paparazzi shots of her at LAX appeared, the Bling Ring was on its way.
Nick said he and Rachel and Diana Tamayo burglarized Bilson's home four times in the beginning of May, entering through an unlocked door. (Tamayo's lawyer, Behnam Gharagozli, denies Tamayo had anything to do with the burglaries of Bilson.) Nick said they took Bilson's designer clothes — pieces by Chanel, Roberto Cavalli, Zac Posen — and her vintage shoe collection; she was a size 5, too small for either of the girls, but they wanted the shoes anyway. They took Bilson's handbags and extensive stash of Chanel makeup, her Chanel No. 5 perfume, her jewelry, "underwear, bras. With these celebrities everything's brand-new," Nick said, "they still have the tags on the items. But of course they would take dirty or non-dirty and wash 'em, whatever — anything and everything that would fit, that they liked, they would take, and being that these were all women there wasn't a lot of stuff for me…."
Rachel, he said, had gotten so comfortable with the routine that during one of the burglaries of Bilson's home she took time out to have a bowel movement. "We were in Rachel [Bilson's] bathroom and Rachel just had to go, so she just … yeah. I remember the incident so well. I can recall the smell, which is really nasty, disgusting. I know I would never like … When you're in there," robbing someone's house, that is, "you have a rush, like I've had to pee when I've been in there, but I would never use their bathroom, just in fear of that maybe some type of evidence would be left there. I think that's weird, personally. But yeah, she did."
They took so much from Bilson, Nick said, he and Rachel "got a lot of her stuff together and sold maybe thirty purses" on the boardwalk on Venice Beach. "During the day there's these stalls you can rent where you can set up like a shop to sell things to people that walk along," he said. "We came up with maybe a thousand dollars each from Venice, just like selling [purses] for like fifty bucks a piece. We had all these designer things and people would jump at the chance."