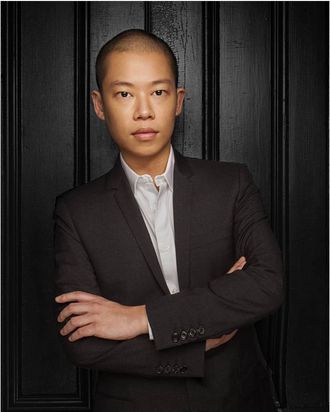 Jason Wu.
Photo: Leslie Barrera/Courtesy of Hugo Boss
Jason Wu has signed on as the new creative director of Hugo Boss's womenswear line, according to a press release from the label. This was rather unexpected: Boss hasn't employed big-name designers before, and it wasn't known that Wu — who has his own eponymous ready-to-wear, shoe, accessories, and diffusion lines — was fishing around for an extra project. Wu will continue to run his own label while attending to his new job, which Boss describes thusly:
[Wu] will assume responsibility and creative direction for all product and image related aspects of the principal womenswear Ready-to-Wear and Accessory line in the HUGO BOSS Group. In his role as Artistic Director, Jason Wu will oversee his team at the HUGO BOSS headquarters in Metzingen, Germany, and also open a design studio in New York. 
Wu's position at Boss was created specially for him, and he'll be charged with expanding their womenswear offerings and elevating their profile as a cool place to shop instead of where our boyfriends buy their cologne. His first collection for the brand will be pre-fall 2014, and he'll present their fall 2014 offerings in a runway show at New York Fashion Week next March.
So what does this mean for Wu's future? It shows that his sights are set beyond his own label. In taking charge of Boss's womenswear, he'll have the opportunity to prove that he can design for a well-established international brand. This could pave the way for him to follow in the footsteps of fellow American designers like Marc Jacobs or Alexander Wang, and lead him to a major European fashion house. (Side note: Does this mean that Michelle Obama will wear Hugo Boss?)