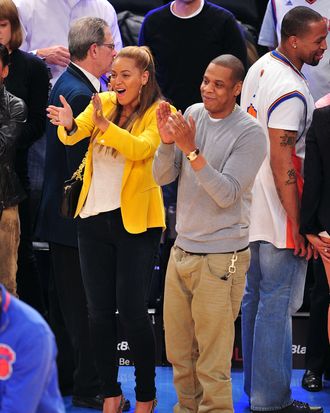 Beyonce and Jay-Z.
Photo: James Devaney/FilmMagic
Jay-Z's clothing line, Rocawear, has been sued for an outstanding bill of $450,000 to a wholesale company called iSource NYC, the Post reports. Court documents allege that Rocawear put in a $1 million order for goods printed with their brand name, which were made in Pakistan and shipped to New York last spring. Although payment was due last summer, the label purportedly only paid half the invoice, and iSource wants the rest of their money plus 9 percent interest.
Rocawear got a boost from Jay-Z's renewed involvement last year, when the rapper signed a new three-year contract with the brand and appeared in a round of ads. (Rocawear's clothes are also now sold at the Barclays Center in Brooklyn, another one of Jay-Z's investments.) These lawsuits tend to get taken care of quietly, particularly when celebrities of Jay's caliber are attached, so don't be surprised if this is the last you hear of it.