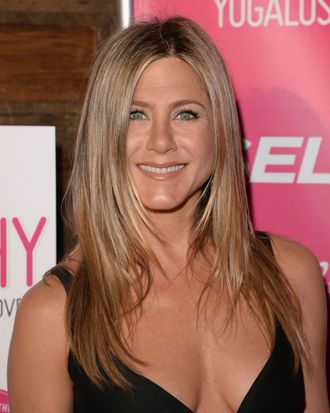 Photo: Jason Merritt/Getty Images
Makeup artist Tina Turnbow has quite the list of celebrity clients: Claire Danes, Keri Russell, and Ivanka Trump all see her. She's also regularly tweeting mid-makeup pictures of Brooke Shields, Mary Louise Parker, Debra Messing. Recently, Turnbow sat down with actress, Aveeno skincare spokesperson, and hair care mogul, Jennifer Aniston. The two chatted about the actress's own beauty essentials as well as that one time she scarfed down a Big Mac. Then Turnbow turned the tables onto industry colleague, Angela Levin, who is Aniston's longtime makeup artist.
What is your typical daily skin care routine?
The skin care rule I stand by is simply cleanse, tone, and moisturize. I also try to exfoliate pretty regularly. Awhile back I was doing a movie in the summer heat. Long days with a face full of makeup made my skin react badly. My makeup artist on set did a great thing, she gave me a tube of Aveeno Positively Radiant Daily Scrub to use every night. And I've been using it ever since.
Do you believe women occasionally make the wrong choices with products and their skincare routines?
When I started making enough money to afford high-end, fancy skincare products with sexy bottles and impressive claims, I decided to give them a try. As a result my skin acted up and got irritated. I think sometimes women may be overcleansing their skin. Some products and masks can be too aggressive and irritating for certain skin types. I believe the more simple, natural, and easy the skin care regime, the better off your skin will be.
What beauty essentials are always in your bag?
I like to have my favorite lip balm by Dr. Hauschka. I always have Fig lip liner by Estée Lauder, I've been using that pencil forever. I really like this concealer pencil by La Femme, which is double ended, one side is a concealer and the other is a highlighter. Sometimes I'll throw some makeup wipes in my bag, they're great when I go to the gym or yoga. I usually have a small bottle of my Jennifer Aniston fragrance, in case I need a quick scent touch up.
Can you share any other beauty tips that you believe help keep your skin looking gorgeous?
I can never stress enough to my friends that they must do as I do … hydrate, hydrate, hydrate! Drink lots of water, get enough sleep, exercise, and eat a clean healthy diet, whenever possible.
Have you ever been in a situation where you had no other choice but to grab some fast food?
I'll never forget when Justin and I were on a road trip and we were so hungry. The only thing around was McDonald's. I think I ordered a Big Mac. Wow, my body did not react well to that! It was like putting gasoline in a purified system. I am always trying to eat organic and natural foods, so that just made my stomach turn and made me feel terrible. And I think what you put in your body, as well as stress, is reflected in the quality of your skin.
Now, read on for more beauty tips with Jennifer Aniston's makeup artist of many years, Angela Levin.
How do your makeup requirements change according to the media you are working in?
Every type of media has its own issue. With magazines now they are doing much less retouching. It requires me to do all I can with makeup for the picture before, so not much retouching goes into it later. For press when Jennifer is talking to journalists all day I like to keep her looking as natural and pretty as possible … so she looks like herself.
Can you share some of the steps and products you use to create Jennifer's flawless, glowing makeup?
First step, I apply a small amount of Youngblood Primer. It's helpful in making the makeup last all day or night. Also because when she is not working she is always getting photographed. After the primer I use a few dots of Youngblood foundation. I like how lightweight it is and it blends well, I can also build it up if needed. Lately to fill in and define her brows, we've been really into Sephora's eyebrow pencil. Jennifer has great lashes, the kind that when you put mascara on they really pop! My standby forever has been Chanel Inimitable Intense Mascara … we love it. I put on about three coats for strength and drama. I will curl her lashes first, using a heated lash curler to keep them lifted. For cheeks I prefer a cream blush. Chanel has a new cream blush formula which I like, also Ben Nye and Bobbi Brown have some nice ones. There are millions of formulas, textures and shades of bronzers — we play with many. But for shading I go with a matte mauve-y/taupe-y tone, not too orange-y.
Does Jennifer ever like to go with a strong lip?
No, she doesn't usually go for a big bold lip. Usually we keep her lips neutral and natural. I sometimes use Kevyn Aucoin's lip liner in Minimal, or the Precision Lip Definer by Chanel in Natural. As far as lipstick the assortment is huge, we choose depending on outfit or mood.