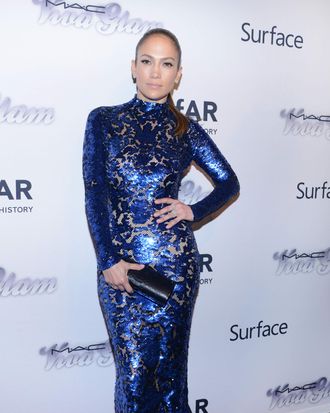 Jennifer Lopez.
Photo: Michael N. Todaro/FilmMagic
Before her widely rumored breast implants (or whatever it was that caused her chest to suddenly grow, as so many actresses' do), Kate Hudson once told InStyle, "Maybe the reason I don't have a problem with nudity is that since I have such small breasts I never feel that they are gratuitous." If that is the case, then Jennifer Lopez experiences the opposite effect. In a new Telegraph profile, she addresses recent criticisms of the outfit she wore to perform live on Britain's Got Talent in a leather thong body suit.
I think it's a little bit much … I don't think I'm any racier than any other female pop artist. OK, I'll wear a sexy outfit, but I think it's more because my body shape's a little different to other body shapes, so that's not very fair.
She's right, of course. Having a more bodacious figure means that showing skin has more impact. And we've gotten so accustomed to seeing extremely thin celebrities on-camera that when we see one with legitimate curves (and not "curves"), it's almost shocking. A thong on J.Lo looks radically different than one on Rihanna or Madonna. And while there's certainly something to be said for dressing with one's body type in mind, it is unfair to say that Lopez is a racier dresser than other pop stars, because she's not — she's simply got more to show, and she shouldn't be judged for it.
Speaking of which, she joins the great camp of famous women who call bullshit on the expectation that their bodies will bounce right back post-birth:
When I got pregnant, I remember watching my back, belly and butt grow and thinking, "I will never be the same again" …

Then I remember right after the twins were born having that weird jiggly belly — and kind of loving that, too. Because I earned that jiggly belly. Then came trying to get my body back into shape and how long that took. A whole year … 

Sure, you can dress nicely after a couple of months and people will say, "Oh, look how amazing they look in a picture taken from a good angle." But the truth is it takes your body time to go back, and I think these days women are too hard on themselves with that. Nobody bounces back straightaway. You don't know what kind of Spanx these women are wearing under their clothes, and what other tricks are going on.
"Tricks" as in plastic surgery, contour spray-tanning, mysterious leg-rubs, and goodness knows what else. So let's enjoy J.Lo's thong-clad ass just the way it is.
J.Lo: My Outfits Look Racier Because of My Shape
Things you buy through our links may earn Vox Media a commission