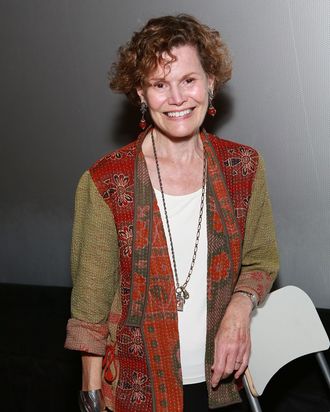 Photo: Robin Marchant/Getty Images
Team Girls can already count Gloria Steinem as a fan, and now Judy Blume has joined the tribe. "My husband and I watch it together. And he loves it," the 75-year-old Blume told the Cut at a recent screening for her new film, Tiger Eyes.
"It's crazy, it's sometimes funny, it's sometimes sad. It's like my husband says, 'They get themselves into the worst possible relationships and situations. Why don't they know? Why don't they understand?'" Blume said, adding, "The first season was more real, I think. And the second season was a little bit more out there."
But despite her recent movie release, Blume has no plans to join Dunham behind the camera anytime soon.
"[My books] are very small stories; not all of them really should be movies. I think Sally Friedman could be a movie. I actually want Sally Friedman to be a musical stage play; that's my fantasy now. I think Wifey could be a funny time and place movie. I'm never going to do Margaret," Blume says of adapting her best-selling novel, Are You There God? It's Me, Margaret. Why not? "Margaret means too much to too many people."