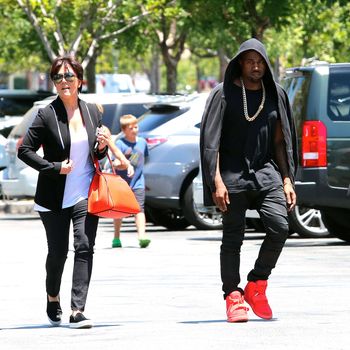 Photo: Jack-kmm-rs/X17online.com
Kanye West made his first "public outing" since the much-discussed birth of his baby daughter North West, and gave a single quote to the paparazzi: "Don't say anything. Don't talk to me." Luckily, both Kanye and Kris Jenner are masters of optics; the staging and wardrobe speaks volumes. Let's obsess about it for a while, because, why not?
• Kris and Kanye are dressed in the same colors: black, white, and bright reddish-orange. (Click to zoom on Kanye's bright shoes.) The silhouettes match, too. Matching outfits are recurring features both in Kanye's love life and in the Kardashians' public lives. Kanye matches outfits with women he loves, like Amber and Kim. Kardashians match outfits to signal family togetherness and to announce that, even when they are walking across parking lots, they are a costumed cast and open for show business. The above photo op suggests Kanye is at least complacent with Kris's antics — particularly in the week W documented Kanye making fun of his baby mama's mama.
• But is he comfortable? In most of paparazzi agency X-17's pictures, Kanye is several strides away from Kris, skulking with his hood up. Discomfort with the press (and refusal to appear again on Keeping Up) may be the greatest divide with Kanye and Kardashians. "This isn't America's baby," Ye told The New York Times, but there are rumors that North's baby pictures will debut during the July 15 premiere of Kris Jenner's new daytime talk show.
• It's also possible that Kanye just wore whatever he was wearing, and Kris tailored her wardrobe accordingly. (That red-orange shade is a Kanye West signature.) Kris is the mastermind behind all things Kardashian; she's clever that way.
• Or maybe it's all a coincidence, the result of days of subconscious bonding beside Kim's birthing bed. Sometimes that happens to me, too, when I'm around someone a lot. (Not usually a Kardashian.) If Kanye starts wearing false eyelashes, we'll know it goes both ways.