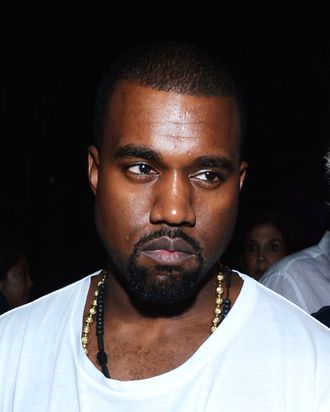 Photo: Dimitrios Kambouris/Getty Images
"I Am a God" is one of the most talked-about songs on Kanye West's Yeezus, for its meme-worthy lyrics and its insight into West's evolving theology. Turns out it also works as a fashion blind item. This, from W's profile of West, which WWD reports will go live on the magazine's freshly redesigned site any minute now:
"In the interview, West recalls an invitation from an unnamed designer last fall to attend a runway show with the condition that West would not attend anyone else's. West, upset, wrote a song with Daft Punk about the incident, 'I Am a God.' 'Cause it's like, Yo! Nobody can tell me where I can and can't go. Man, I'm the number-one living and breathing rock star. I am Axl Rose; I am Jim Morrison; I am Jimi Hendrix. You can't say that you love music and then say that Kanye West can't come to your show,' West said."
It's safe to say he wasn't the only person in Paris stress-eating croissants over his fashion week invites.