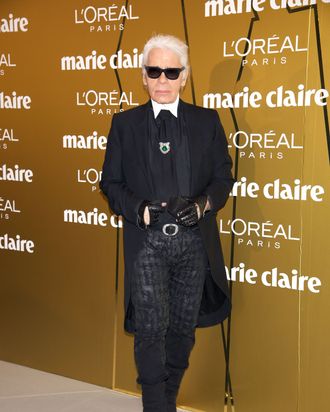 Karl Lagerfeld.
Photo: Carlos Alvarez/Getty Images
Karl Lagerfeld, sayer of many ridiculous things, kept himself relatively in check during a recent interview with the Telegraph  — until he started in on how much he hated Audrey Tautou's portrayal of Coco Chanel in the 2009 biopic, to the "horrified expressions" of his publicists (Tautou was formerly the face of Chanel No. 5, so that's awkward).
Oh, the movie was bad. She played it like women's lib, like Simone de Beauvoir 30 years before The Second Sex. No, no, no, no. Chanel was a different kind of woman.
Instead, he prefers Keira Knightley, the actress and Chanel face he cast to play Coco in his new short film, Once Upon a Time. He also outfitted Knightley in a simple strapless dress and Chanel flats for her wedding to James Righton a few weeks ago, which he calls "simple" and "perfect":
She had the least pretentious wedding ever. The whole thing was relaxed. I think it's perfect. After all, they lived together for quite a time. It's not as if she is a young girl of 18 who sees the husband for the first time. She is not a country girl. Yes, I liked the light-heartedness of this wedding.
And finally, because everyone loves to picture Karl and Choupette cuddling in front of their respective iPads, what are his thoughts on newfangled things like Twitter and Facebook these days? "They lose a lot of time these people, and they become stupid because they nearly tell you they're going to the bathroom, eh?" But Choupette would never.