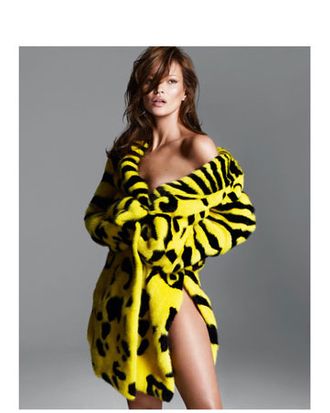 Kate Moss.
Photo: Versace
You may recall that the fall runways looked something like this: fur coat, fur mittens, fur collar, unrecognizable fur thing, more fur. So it's no surprise that the season's ads take a similar direction, with models draped in soft pelts and little else. Kate Moss alone has already appeared in several: Less than 24 hours after she was photographed (along with her body double) parading around a Stuart Weitzman fashion set in fuzzy gray outerwear, her new Versace campaign — which shows her in the label's spectacularly ostentatious bumblebee coat — came out today.
Versace's black and yellow furs were some of the season's most extraordinary, which is saying a lot, considering Alexander Wang's outrageous mittens and Altuzarra's fascinating skunk coat. Part zebra, part hornet, part taxi cab, and part goodness knows what, this fur apparently merited Kate getting a brunette dye job. Donatella described it thus to Elle:
[The] Versace campaign for Autumn/Winter 2013 is stripped back to the raw power of the clothes and models … There's no set, no distraction, just the provocation, glamour and attitude of our fashion.
Raw power, indeed. Hopefully some lucky body double got to take it out for a spin, too.