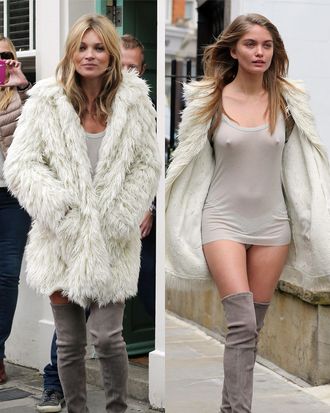 Pictures of Kate Moss and a body double, both dressed in a yeti coat and over-the-knee boots, have surfaced on tabloid photo site Splash News. Apparently shooting a commercial for Stuart Weitzman in Central London today, Moss's unidentified doppelgänger wore "next to nothing" and stood in for the model in several scenes.
Sure, they're not twins, but there's certainly a resemblance, which is rare: Photographer Alison Jackson, who's famous for finding uncanny celebrity lookalikes, has previously remarked how hard it is to find a body double with Moss's proportions. "It's very difficult to find anyone of her shape," she told London's Evening Standard last year. "Some people have the torso, some the legs, but, so far, no one has the whole package." So, congrats to this girl, who now gets to put "Kate Moss's body double" on her resumé.
This is Moss's second campaign with Weitzman; she also fronted their spring 2013 ads. Mario Testino has worked with the brand for the past two years, so presumably he's doing this season too. Based on the over-the-knee boots and yeti coat, this one's probably for fall.
In other Kate Moss news: While stumbling around at a benefit last week, she whipped out an impressive reminder that she is, indeed, a mommy.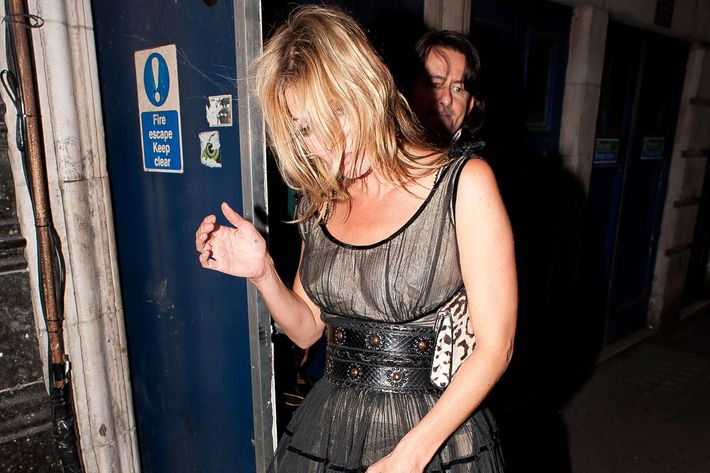 Yes, a bunny iPhone cover, complete with rubber ears and a "LOVE" sticker! Proof that she's always got surprises up her sleeve, literally.