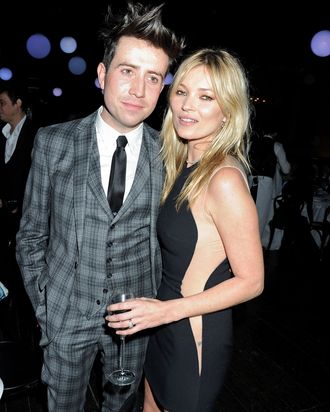 Nick Grimshaw and Kate Moss.
Photo: Dave M. Benett/Getty Images
Kate Moss is notoriously tight-lipped and awkward around journalists, but all her famous friends are constantly going on about how sweet and fun she is, which leaves us to imagine her as that slightly odd but overall hilarious friend who'll always spot you a cigarette. Today, we may have gotten our best window into that side of her yet: An old friend of hers, British TV presenter Nick Grimshaw, agreed to prank call her live on BBC Radio One.
Here's a transcript of their conversation.
Kate Moss: Hello?
Nick Grimshaw: Hi! It's Grimmy!
KM: Hello, darling!
NG: You okay?
KM: Yeah, how are you?
NG: Okay. I've not seen you for ages; I thought you didn't like me anymore.
KM: Oh, no! No, I love you! I've been away, I was in Hong Kong, and now I'm in Turkey.
NG: How is it?
KM: It's gorgeous. You've got to come. It's amazing.
NG: Oh, I want to come. Hey, quick one, because I'm about to go to work. Have you got my High School Musical DVD still?
KM: Oh, God. Dunno. Did I have it? I can get [unintelligible name] to have a look. When do you need it for? Because she's not there today. [Sounds genuinely distressed.]  
NG: Oh, I need to watch it now.
KM: Oh no, I haven't got it now, I don't know where it is. Sorry, babe! I'm sorry. [Laughs.] That's such a random question.
NG: Oh no, I need to watch it right now.
KM: Oh no, why?
NG: I'm just in the mood for it! I just need to watch it.
KM: [Bursts out laughing.] You're such a weirdo! When did you give it to me? That's so funny! I have no idea. They must have it in a shop. 
NG: I think they only have it on BluRay now.
KM: Yeah, probably. [Side note: She knows what BluRay is? Impressive.]
Radio D.J. Keith Lemon: Hey, Kate Moss, it's Keith Lemon!
KM: [Laughs hysterically.] I KNEW it wasn't Grimmy!
KL:  Hey, Kate Moss, do you fancy going shopping?
KM: Um …
KL: I want to go out with someone really stylish so they can do a makeover on me … [Kate hangs up.] Is she gone?
NG: Has she gone?
KL: Normally as soon as I say it's Keith Lemon, that usually works. 
What a good sport, though! Even the fluffiest Vogue puff piece can't manufacture that kind of friendly banter. And now we know that Kate Moss is the kind of friend who will have her staff search her home for a friend's DVD. This might actually be the best press she's gotten in ages.