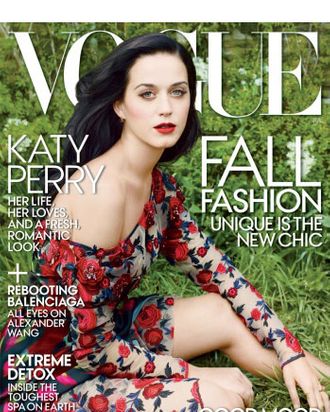 Here is Katy Perry, nestled in tall grass like a newborn lamb, her powdered face turned toward Annie Leibovitz's lens like a flower to the sun for her very first-ever Vogue cover. (It bears a striking resemblance to Anne Hathaway's December cover, no?) She's wearing Rodarte, which is definitely a step up from her cupcake bras and aggressive keyhole cutouts of yore.
But wait, how are we supposed to interpret that ring on her wedding finger? The headlines do hint that we'll hear about her love life — does this mean she'll discuss John Mayer? Or Russell Brand, who is now supposedly making out with Andre Balazs's daughter, of all people? What about Robert Pattinson? Alas, these questions won't be answered until Tuesday, when the full accompanying spread and cover story will come out. (And probably when the cover was supposed to go up, had it not leaked early on the Fashion Spot.)
Also of note: This cover reveals that the July issue will contain a story about Alexander Wang "Rebooting Balenciaga," which will surely be fluffy but hopefully interesting, as well as a feature about women who have to choose between a "good mood or good sex," which sounds unfortunate.