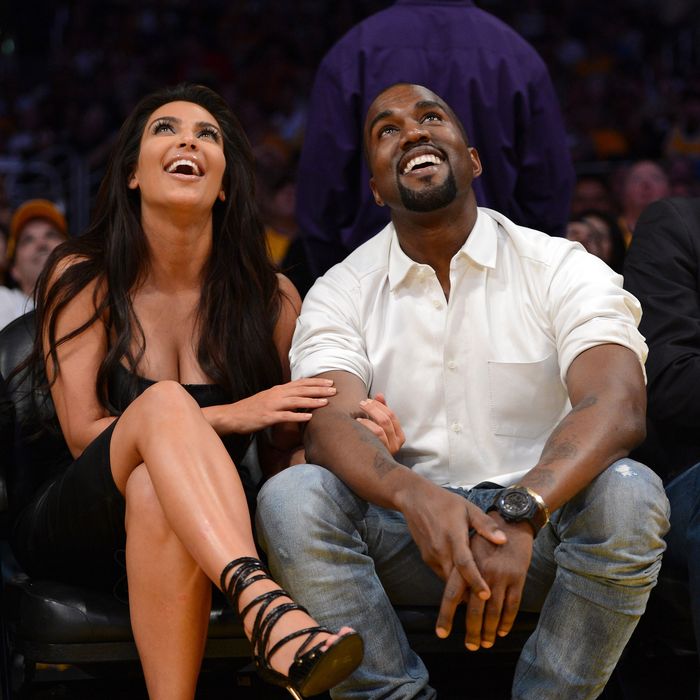 Photo: Harry How/Getty Images
In the banal excitement over Kim Kardashian revealing her baby's gender on Keeping Up With the Kardashians, we seem to have overlooked a second and far more thrilling revelation: Kim confirmed that Kanye West has a huge penis.
Mere moments before her doctor revealed the gender of the fetus that Kanye's huge penis deposited into her womb, Kim said the following to her mother, doctor, sisters, and a camera crew preparing to broadcast everything she said to the entire world:
Ultrasound Doctor: We're going to have to look around for the sex.
Kris Jenner: Do you see a little pee-pee?
Ultrasound Doctor: I don't see any pee-pees.
Kim Kardashian: It would definitely take after the father, so you would see it.
*Broad wink.*
Do you get the feeling that Kanye is embarrassed by all this? Bruce Jenner recently noted that Kanye is "never around" the Kardashian family; Brody Jenner has never even met him. There could be other reasons for Kanye's absence. Perhaps only-child Kanye needs more "alone time" than members of the Kardashi-clan do.
Do you think all of the Kardashians have looked at Kanye's Internet-famous dick pic? Kris, Khloe, and Kourtney all take the news about Kanye's genitals in stride, which could mean Kim already told them. (The sisters Kardashian have discussed their significant others' penis sizes before.) But they're also a really nosy and Internet-y family, so pic-snooping might not be out of the question.
Previously, Kanye West has confirmed making a 40-minute sex tape and once taking "a picture of my hey!" where "hey!" is believed to refer to his penis. His penis is more famous than most people's entire bodies.
Click below to view Kanye's Look Book, where you can zoom in on pictures of his, ahem, finely tailored clothing.