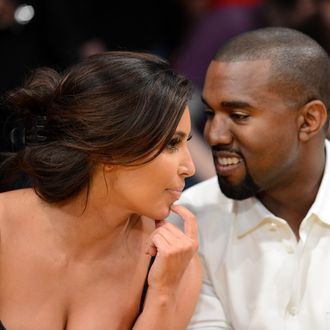 Photo: Harry How/Getty Images
Forget everything you know. Nothing is sacred. Today Us Weekly increases entropy in the universe by reporting that Kimye's baby's name "definitely does not start with a K, despite all the rumors that have been out." (Like this one.) This is tough to sort out because E! was the first to promulgate the K-name rumor, and E! is Keeping Up with the Kardashians' home network. But Us Weekly regularly photographs Kardashian vacations exclusively and stuff, so they have an "in," too.
The only explanation is that this baby has no name. Her name is a doodle, like "The Artist Formerly Known as Prince." Her name is Emoji. Her name is the crash of a symbol, the chime of an iPhone, the sound of the ocean inside a pink conch shell.