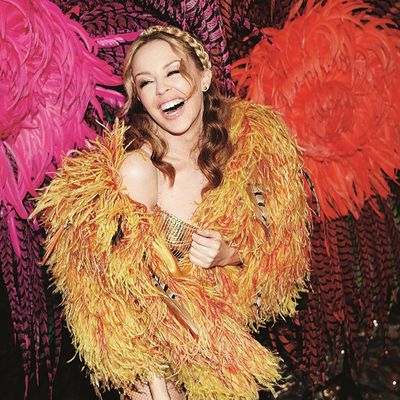 Kylie Minogue at Saks.
Photo: William Baker
The first things you ever read about Kylie Minogue are: 1) She's tiny, and 2) Her skin is unbelievably pale and luminous. Both are true. Birdlike and bright-eyed, she is perched on a banquette at Saks's S.F.A. Café on Monday afternoon while a line of over 300 people snakes around the eighth floor, all waiting eagerly for her to sign their copies of her new book, Kylie Fashion, which she published last week with her longtime stylist William Baker.
A recent Times profile titled "Kylie Minogue: Pop Star, Fashion Darling … Who?" says Minogue has "never truly mastered the American market," but these throngs of adoring fans prove otherwise. "I heard people flew in from Florida and California for this," says a publicist. Judging by the sheer number wearing hotpants, she is correct.
Minogue herself seems both calm and focused, with a glass of water and a half-finished espresso at her elbow. Her blonde hair is thick and fluffy, her makeup fresh and dewy. Unlike most 45-year-old women in the entertainment industry, her forehead actually moves when she talks, only to spring back to its smooth, creaseless state between sentences. She's wearing a black, crystal-encrusted dress by Emilio Pucci: "It's not designed to sit in, so I don't know how I'm going to sign 300 books, but yeah!"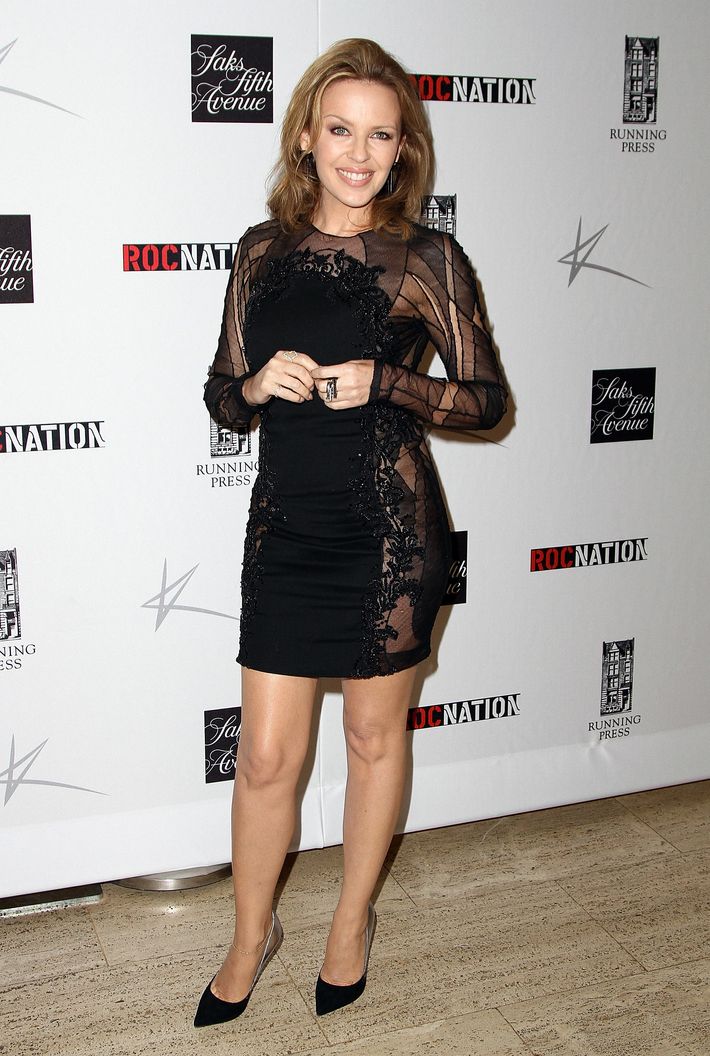 On top of her new book, Minogue recently broke ties with her manager of 25 years, Terry Blamey, and signed with Jay-Z's record label, Roc Nation. In what many have considered a renewed effort to conquer the American music scene, she's spent the last several months recording in L.A., collaborating with artists like Timbaland and Pharrell Williams. "Now I own a baseball cap!" she says of her time on the West Coast. "And I've never worn trainers so much! I love it. I've never been so comfortable in my life. I've even been wearing track pants."
Born in Australia, Minogue is normally based in London, and was recently described by Elle's Joe Zee as having more of a "European sensibility." But what does that even mean? "I definitely agree, but I don't know," she says. "Maybe Americans are more in-your-face, more overt. I don't really know how to describe what it is. But Europe is my home, so that's been my influence." 
Having been a fixture in the international music scene for decades – since 1987, when she produced her first hit single, "Loco-Motion," to be exact – Minogue has seen her fair share of fashion trends, and says her own style has evolved less lately. "When you're younger, you're figuring out who you are and what suits you, so it's great to try everything," she says. "But don't stop trying when you're older!"
As for her elaborate performance outfits, designed by master showmen like Dolce & Gabbana, John Galliano, and Jean Paul Gaultier, she doesn't sugarcoat things. "They look great and they do the job onstage, but they're zero fun to wear. I know that they're projecting and doing what they need to do, but you can't breathe, you can't walk, and you've got to make it look like can do all of that, which means you can't do the other things you've got to do as well as you would like," she says. "So you've got to just juggle for the end result."
When it comes to choosing such outfits with Baker, a process that usually involves coffee and "wild sketching on napkins," she admits there's often some bickering. "Like, 'I'm not wearing that!' 'You should wear that!'" She cites one argument that involved a "really skimpy" Julien Macdonald dress. "I said, 'I can't do that,'" but Baker and a choreographer insisted. "They barricaded me and were like, 'There's two queens in the room, and we're telling you to wear that.' And they were right, because it looked amazing! So, sometimes it's good to have someone like that, to push you a little. To help you to be bold."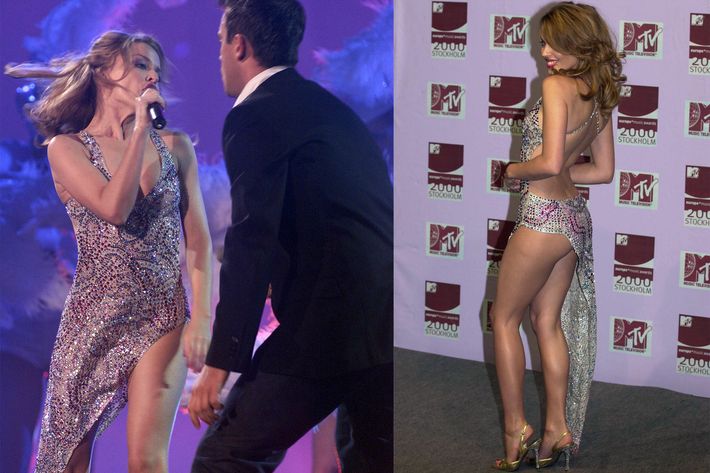 A publicist cuts in; Minogue has books to sign and photos to pose for. She shimmies out of the banquette and pops to her tiny feet, making her dress look like the most comfortable thing in the world. "You don't want to go and see me wearing what I'd wear on the street!" she protests. "It's got to be larger than life, and a little bit of a fantasy. I love doing that, but I also love taking it off."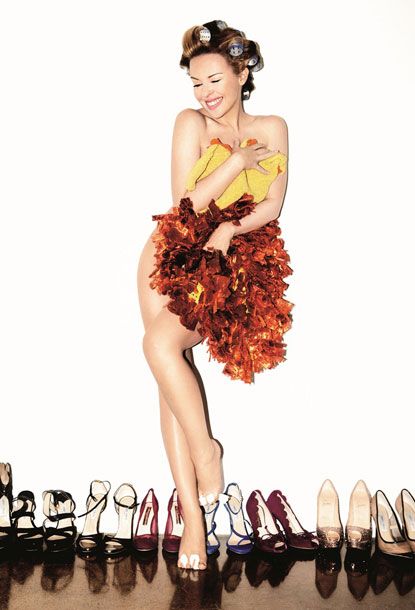 Kylie Fashion, by Kylie Minogue and William Baker
Photographed by William Baker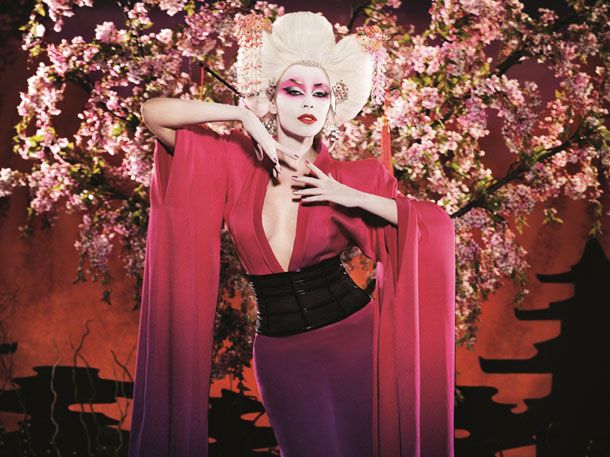 Kylie Fashion, by Kylie Minogue and William Baker
Photographed by William Baker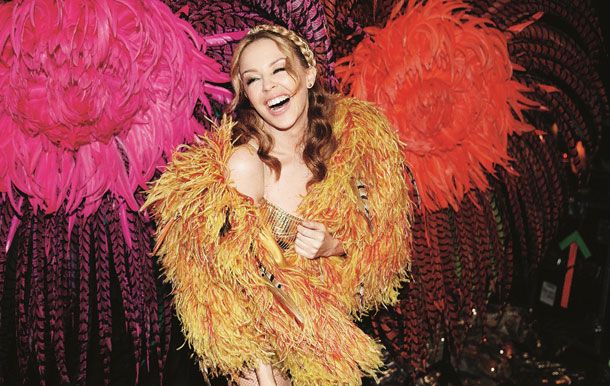 Kylie Fashion, by Kylie Minogue and William Baker
Photographed by William Baker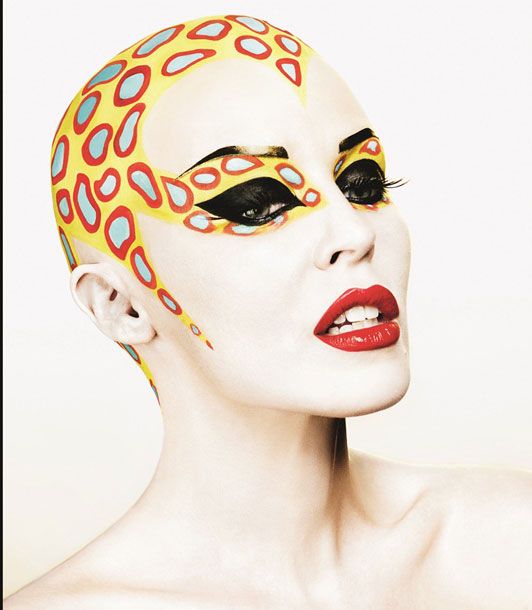 Kylie Fashion, by Kylie Minogue and William Baker
Photographed by William Baker
Kylie Fashion, by Kylie Minogue and William Baker
Photographed by William Baker