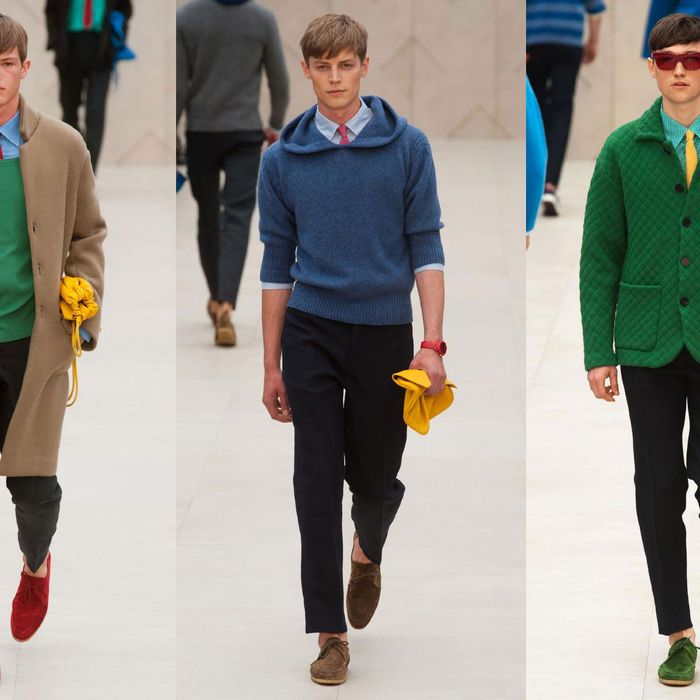 Photo: Alessandro Lucioni/Imaxtree
After a decade of showing menswear in Milan, Burberry Prorsum returned to the U.K. today. Not a huge surprise from a British heritage label that already shows its womenswear in London, but still: Today's light, informal show in the almost rural setting of Kensington Gardens showed how comfortable Christopher Bailey is on his home turf.
Especially since notable faces included Franca Sozzani, Hugh Dancy, Natalie Massenet, Serena Williams, Suki Waterhouse, Shenae Grimes, Josh Beech, the "offensively attractive" Douglas Booth — and, of course, David Gandy, who doesn't seem to have missed a single show this week.
Then there were the clothes. The "Writers and Painters" collection, inspired by Alan Bennett and David Hockney, played with a cheerful palette of primary colors and a relaxed, schoolboy feel. For instance, the first look was a blue shirt, skinny red tie, green sweater, and gray trousers, worn with red deck shoes and a slouchy, soft camel coat. The models had disheveled hair, were clutching drawstring leather bags, and looked like the cutest boys on campus.
Of course, there were appearances of the famous Burberry trenchcoat, but it was in more casual, less structured territory than in previous collections (especially compared to last season's iridescent and metallic ones). There were also hooded raincoats in yellow, blue, and green; lightweight snoods covered in large polka dots; and lots of playfully bright sunglasses.
It felt like the game-changing arrival of a new Burberry style crush. At the very least, Hockney and Bennett, ages 75 and 79, respectively, should be feeling very fashionable.