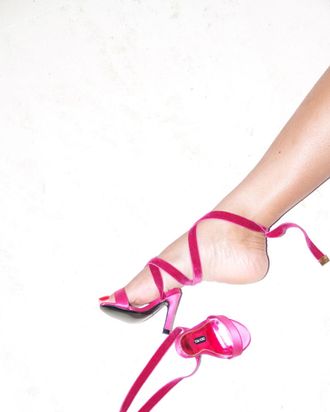 Tom Ford's Blue Ivy shoes.
Photo: http://iam.beyonce.com/
Today, Beyoncé posted the following pictures on her website: Blue Ivy wearing a crown, Blue Ivy touching her mom's nose adorably, a ruffly baby dress belonging to Blue Ivy, and a pair of pink Tom Ford lace-up heels that are … BLUE IVY-SIZED. Just in case you look at the picture and think, "Oh, cute shoes," Beyoncé modeled them on her own adult-sized feet so that you can see how they are, indeed, for babies — well, a very special, specific baby. Which means they're also custom-made, of course. Maybe Bey has matching ones, like an ultra-luxe version of those Laura Ashley mother/daughter sets.