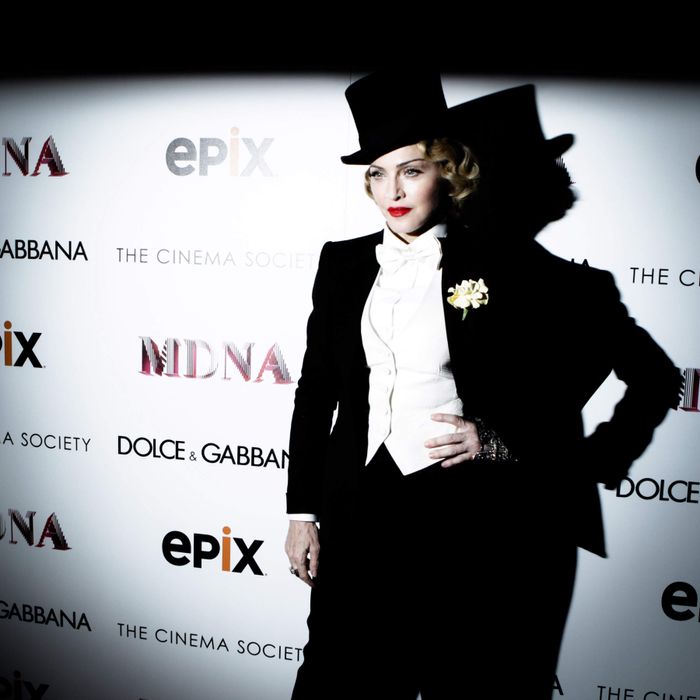 Madonna.
Photo: Julio Gamboa/BFAnyc.com
After the world premiere of Madonna: The MDNA Tour, an amalgamation of footage taken in multiple cities from May to December 2012, the singer herself took the stage last night at the Paris Theatre. Looking very Marlene Dietrich in a top hat and white bow tie, she admitted that MDNA "was probably the hardest tour I've ever done."
Indeed, it looked exhausting. The movie showed clips of Madonna fighting off masked intruders in a "motel room," marching as a drum majorette ahead of a cheerleading squad, strip-teasing down to her Gaultier teddy atop a piano, and walking on a tightrope — all while singing.
"I was a mess. Just talk to my manager. But in my book, if you don't leave a pound of flesh on the stage every night, you did not do your job. Go hard or go home," she explained during the audience Q&A. And given what we'd seen in the film, one could hardly blame Madge for her blunt reply when an audience member asked how she stayed in shape on tour. "I hate those questions," she said cheerfully, to much laughter from the crowd. "I did the show every fucking night, okay? Is that a workout? I mean, did you watch? My workouts got smaller and smaller as the tour went on, because I became more and more exhausted. There's your answer."
More from the audience Q&A:
On having her 12-year-old son, Rocco, on tour with her:
Um, well, he was going to go on my tour whether he liked it or not … He's a Leo. What can I say? He's disconcertingly comfortable onstage, and I was thrilled to see him every night. He gave me a little boost of energy. So, go, Rocco, wherever you are! However, he does not look like that. In one year, he has grown. He's six feet tall, his voice has deepened, and I'm a little bit scared of him.
On her stage costumes:
I collaborated with Jean Paul Gaultier, who I've been collaborating with for years. And he loves to push the envelope and play with gender confusion, and wear your underwear outside, and girls that play boys and boys that play girls. But all that's pretty sexy and hot, so. The last section of the show was a strange marriage between martial arts and Joan of Arc, and I don't know — there's something wrong with me!
On pumping herself up to perform when she's not in the mood to perform:
There's no such thing as "not in the mood," because the show must go on. I mean, I'm a human being like everyone else, so I would have my bad nights, and I would cry and say, 'I don't want to do this.' But you know, I sold the tickets and I can't let my audience down. Even if I hadn't slept the night before and I'm exhausted, before every show everyone came into my dressing room, and we got into a circle and we held hands and we said prayers. Fifty percent of the time I said them, and 49 percent of the time I was crying — usually from overexhaustion. 
There's something about pushing yourself when it's pouring rain or it's freezing cold or you don't feel well or something really shitty-crazy happened in the world, like Hurricane Sandy. There were so many weird, bizarre things happening [during the tour], from the trial of Pussy Riot to gays being arrested at my concert in St. Petersburg to the election of Obama. The world was changing rapidly — the shooting of Malala — it was just a crazy time. And I was personally and tremendously affected by it, and sometimes I just didn't feel like I had the strength to go on and sing and dance and pretend that crazy shit wasn't happening in the world. But by the end of each show I felt victorious that I had pushed through something. The world needs to be inspired — it's my job, it's all of our jobs to bring people up.