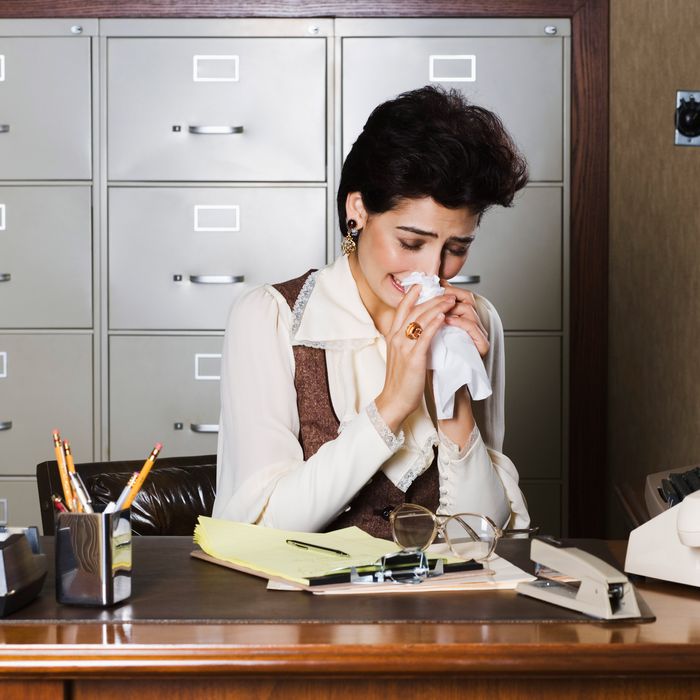 Boo hoo.
Photo: Push Pictures/Corbis
A new study by New York-based talent firm 24 Seven shows that fashion industry employees are increasingly unhappy with their jobs. You know the story: A starry-eyed kid comes to New York with dreams of working in fashion, finally gets a job (probably unpaid) packing boxes full of polyester shirts in a warehouse, eventually gets hired to read and write emails about merchandising or ad sales, and despite working all hours, can't even afford to buy cool clothes. Who wouldn't be discouraged?
In fact, more than half of the fashion workforce is unhappy with their jobs, according to the study. From WWD:
The percentage of workers who said they were satisfied with their jobs fell to 48 percent in this year's study, sinking below the 50 percent mark and down from 51 percent in last year's survey and a robust 60 percent in 2011. Those indicating they are "highly satisfied" fell to 14 percent from 16 percent a year ago.
What's more, 86 percent said they were "open to a move next year," a striking uptick from 2012's 70 percent.
But here's the weird part: despite growing ennui in the workplace, the average fashion industry salary has actually increased over the past year. From WWD:
Among the more than 1,300 workers surveyed, average compensation rose 6 percent last year, to $68,000, and nearly one-third of employees — 32 percent — saw their salaries rise at least 10 percent.
So what, then, is making people hate their jobs more? Perhaps this number holds the reason: only 64 percent of those surveyed said they had a "good work-life balance," down from 69 percent in 2012. Maybe people are just being asked to work more these days. With pressure to tweet, check email, and be plugged in around the clock, this isn't surprising. The fashion industry is probably worse about this than most, since so much of it is online and social media based. No wonder its workers are losing what little sanity they probably had to begin with.
Most people in fashion will tell you that it's 90-plus percent grunt work, 10-minus percent glamour, and you have to really love it to succeed, whatever that means. But no matter how passionate you are about your job, there are very few people who don't need time off, if only to give their thumbs a rest.
There's a bright side, though: Freelancers are happier! Independent workers who rated their work-life balance "good" or "great" rose to 82 percent from 79 percent in 2012. Moral of the story: To hell with benefits. We should all just quit our jobs and work when we feel like it.