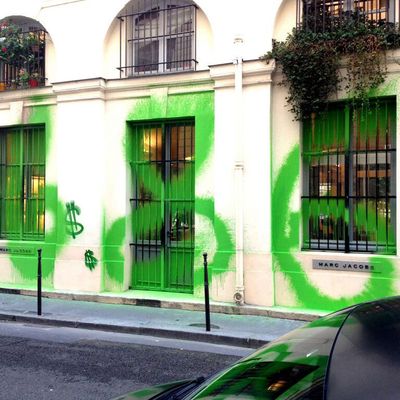 Marc Jacobs's Paris store.
Photo: @hypebeast/Twitter
As you may recall, vandal/graffiti artist Kidult tagged Marc Jacobs's Soho store with the word "ART" last May. The designer retaliated by photographing the damage, printing the image on a line of T-shirts, and then selling them for $686. Clearly annoyed that his statement about luxury consumerism had been subverted, Kidult tweeted menacingly, "@MarcJacobsIntl … ??? LET'S PLAY, but we don't play the same rules!"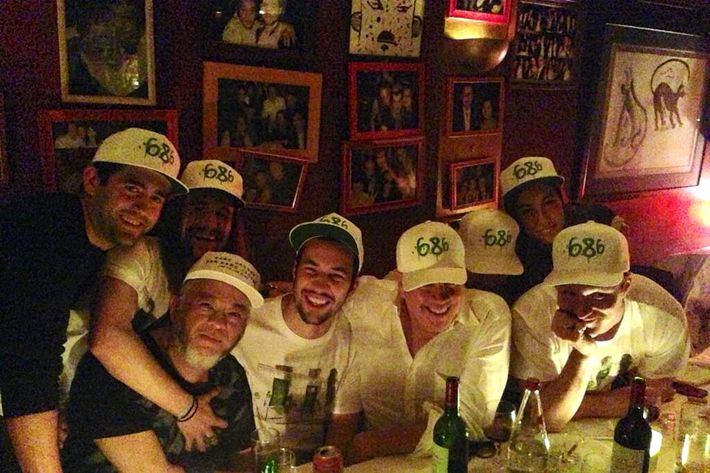 That all happened a year ago, but the beef continues. Yesterday, Kidult spray-painted Marc Jacobs's Paris store with the T-shirt price, "686," surrounded by dollar signs. As expected, the fashion house fired back last night with a photo of their Paris employees — and Marc Jacobs president Robert Duffy — wearing white hats printed with the tag (some wore the "ART" shirts, too). The caption: "Celebrating @therealkidult in #Paris tonight. Our hats off to you." Kidult has yet to respond, but again, the odds seem stacked against him.