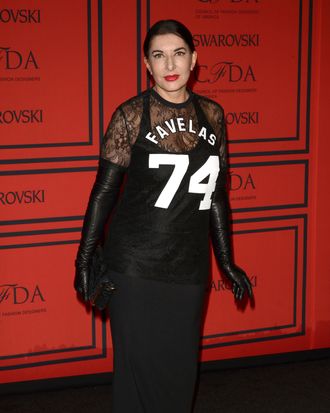 Photo: Andrew H. Walker/Getty Images
Last night at the CFDA Awards, artist Marina Abramovic showed up wearing a Givenchy athletic jersey with the word favelas and the number 74 (designer Riccardo Tisci's birth year) printed across the front along with intense leather opera gloves that would've likely withered had it kept raining. As celebrities streamed along the red carpet outside Alice Tully Hall, Abramovic cozied up on a bench on the other side of the windows, where she talked to the Cut's Jenni Avins about beauty, aging, and the new movie she's got planned with James Franco.
There was an interesting article this weekend in T, an interview with Miuccia Prada. She talked about loving things that are ugly, and the power of things that are ugly. I wonder what you think about that?
It's incredible how we presume that things are ugly. I was very impressed [by] one experiment that was done in Germany. They took 25 women and 25 men, and they put [them] in two separate rooms. And they never saw each other. And then they take their clothes off, blindfold them, and they put them in a common room together. And they have to create couples just by touching and smelling each other, without any other relationship. And then after they really felt some kind of attraction or chemical between each other, then they remove the blinds and then 92 percent were not the visual choice. They would not be the visual choice.
This says so much. We make such terrible mistakes with visual choices about beauty. Everything else is important. And there is no ugliness. There is inner beauty. It's just the way how each society creates the codes. If you see a Renaissance body, this is completely ugly in this time. Everybody has to be skinny. But the Renaissance body with incredible flow of the meat everywhere, it was beauty. So I think beauty comes from inside. And ugliness is nonexistent.
The other thing she talked a little bit about was aging and how obsessed we are with youth, but now everyone can live longer, and sort of what a problem it creates.
The aging is a big issue, too. You know, I am thinking about the death every single day. And this year I am 67. You know, everyone is always talking about plastic surgery, or the technology, what to do. I really think it's important to help yourself with the technology if you want to feel better, but I am absolutely against any kind of monstrous cuts of the body, lifting that is beyond recognition, this kind of stuff. But I think we have to make the point when we know we are temporary on this planet, and whatever we do, we are going to die. [Laughs.] Whatever you do!
Yeah. What about injections and things like that? Are you against that too?
Definitely not. I don't do injections. What I am doing now for my skin, I am crazy about lasers. That's my thing. All lasers. Because lasers remove the brown spots. Lasers, they break the collagen, and then collagen gets shocked and starts growing, and it really looks good for the face.
It's fast, right?
No! It takes six months. This is what's wonderful, because it's a natural [process.] I'm not so much into Botox kind of stuff because it's like you constantly have to do something. With collagen, the collagen takes time and actually becomes your natural refreshment.
It took me so long to discover so many simple things. Because we always relate to happiness in the relationship. We think that happiness depends from that person. That person leaves, and you are completely in pain. But when you understand that actually you are the one who made the happiness and then you become the owner of your own self. And then it's so good. Right now, I've never been in a more happy moment in my life. It's the first time. I'm completely alone. No one is complaining that I'm working too much or that I am not at home. I wake up in the morning and I do whatever I want. Because before, if you are an artist, you can't love fashion. I could not work in opera. I just make a ballet with Riccardo [Tisci]. It was great. Then, I'm just thinking about so many different — why not, you know? And that's the idea of freedom we should actually breed. I'm right now working on the James Franco film.
You are?
Oh, yes. This is insane! You know, James Franco is one of the most interesting figures because he has no rules. He breaks all the borders. He made more movies than any other person. He made 90 movies. Did you know that? He finished four universities. He is editing the nine films that he is directing, and another eleven where he is playing. I mean, it's kind of insane. You know, he gave me all the material, which I am editing. And I can't tell you the title. It's a secret! But I am so excited!
Are you in it?
No! It's about him. I am editing it. I am editing his life. I can't explain. I am interested in this phenomenon, James Franco. So what I do is I take everything he has done, and I look into that. And I see how many personalities and how many different characters he is. It is incredible, actually. You don't know who is he, actually.
So when do you think you'll be done with it?
I am going to do the trailer, which is going to be shown at the Venice Film Festival in the end of August, and then we have to do lots of work to make it. I think it will take another six months.
You're working on it here, with him?
Yeah. No! I don't need him. I don't even want to. I have enough material for hundreds and hundreds of hours.
You don't even spend time with him?
No, no. I spend as a friend. He made everything already. I just have to put in a certain combination of things of how I see, you know?
I am so curious!
It's going to be really special. To see about Hollywood and how that works and why you need to do so much. What is the reason? You know, it's very much his obsessions with every young actor who died young — like James Dean, like some other people. It's really very, very complex. [Two Italian women in black — one small and silver-haired, the other tall and brunette — approach us with a red-bearded young guy.] This is mother of Riccardo and his sister. You want to interview? I speak Italian. I can, you know.
[She introduces Riccardo's sister and mom.]
She is the first time in New York. They got here yesterday.
Have they been to Riccardo's shows before?
Always.
How is it seeing him on the red carpet like this?
She can't talk because she gets so emotional. At every show, when he is doing in Paris, she is in the first row and she is always there. She supports everything he do. He has eight sisters, you know that?
So did he make clothes for his sisters when he was little?

[Riccardo's mom now answers herself.]
Si.
[Then Marina translates again.]
With a little, he made a lot.