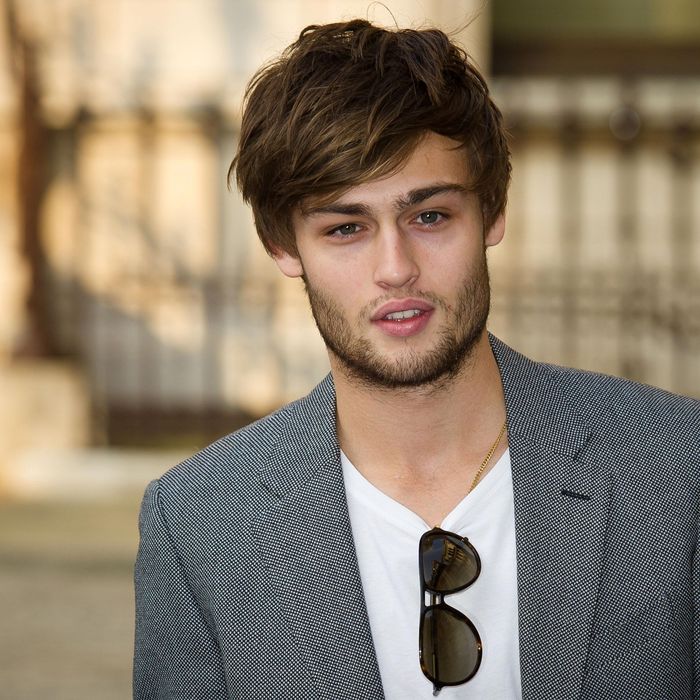 Photo: Ian Gavan/Getty Images
"External beauty is a bizarre thing to me," says Douglas Booth, a man whose external beauty is so great that co-star Emma Watson once described him as "offensively attractive." In a few hours he'll be in a Tom Ford tux at the CFDAs, where he will present the Swarovski Awards for Emerging Talent. But for now, the 20-year-old Londoner is in a sweatshirt, sprawled across an armchair in his suite at New York's Peninsula Hotel. "I've met some of the most beautiful women in the world, and I can tell you lots of them are the most unattractive people I've ever met."
Booth stars in an upcoming Romeo and Juliet destined to make teen hearts pound. Sixteen-year-old Hailee Steinfeld plays Juliet; Gossip Girl bad boy Ed Westwick plays Tybalt. The film comes out in Great Britain in July. In the next year, Booth will appear in four feature films from the likes of Darren Aronofsky and the Wachowskis; he'll share screen time with the likes of Watson, Mila Kunis, Russell Crowe, and Channing Tatum. Teen girls are already dedicating dreamy art to him on Tumblr.
"Do I do any grooming for this event? No, I'm fine. Very low-maintenance," he says of his event preparations. As his assistant begins to chuckle, he adds, "Well, I think I'm low-maintenance."
Produced by Julian Fellowes, the new Romeo and Juliet has been compared to Zeffirelli's classic version — both for its Italian director and sets, and for the youth of its stars. When Hailee Steinfeld was cast in 2011 at age 14, the press — including the hosts of The View — fretted at a script that required nudity. Director Carlo Carlei later clarified that the script had initially been written "with a 20-year-old actress in mind" and had to be altered to eliminate Juliet's nudity.
Booth dismissed the controversy as "the press wanting to write rubbish," bristling at questions about the "beautiful and tasteful" scene. "We're not immature, puerile kids." Technical child Hailee Steinfeld is "so with it and grounded" that filming romantic scenes was "not difficult."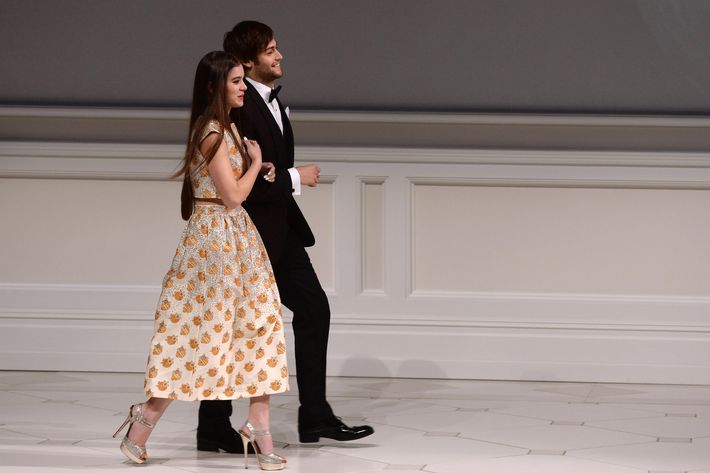 "We know what characters we're playing; we're professionals. I'm not sitting here feeling like I've snogged Emma Watson. I haven't!"
As an up-and-coming actor, Booth modeled alongside Watson in a fall 2009 Burberry campaign. The duo reunites in Aronofsky's Biblical Noah, in which they play husband and wife. Asked about Watson's "offensively attractive" comment, Booth notes that Noah is a poor showcase for his looks: "I had hair down to here and a big old beard. It feels great and refreshing to just not care."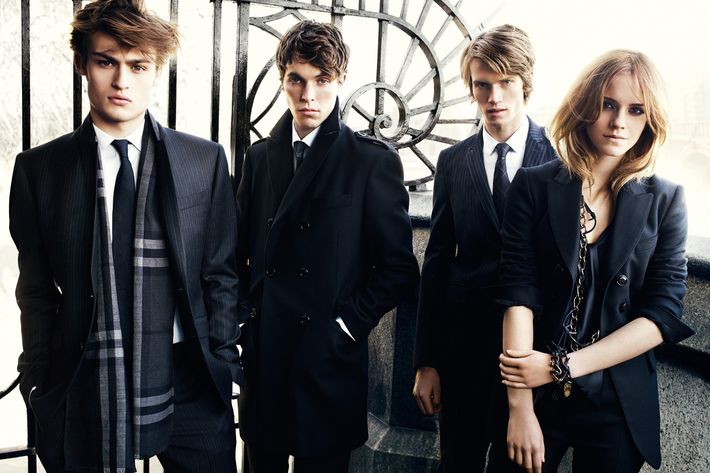 But back to our history of kissing Booth. Shortly after the Burberry campaign, he starred as Boy George in BBC biopic Worried About the Boy. "I don't feel like I've snogged Richard Madden, who played Lord Stark in Game of Thrones," Booth continues. "In the Boy George movie, I had to kiss him."
Presumably he does not feel like he snogged Miley Cyrus, either, despite playing her love interest in his first American-made movie, LOL. Co-starring Demi Moore, the teen movie flew so far under the radar that Booth never learned how to pronounce its name. "El oh el? Lull?" he guesses. Apparently "it never came up before."
As for his real-life girlfriend, all Booth will say about her is that she "has great energy." Is she an actress? "Maybe." Would he like to share her name? "Not really."
A few minutes later, Booth's publicist arrives to shoo me out of the room. The CFDAs approach, and her client has a tuxedo to put on.