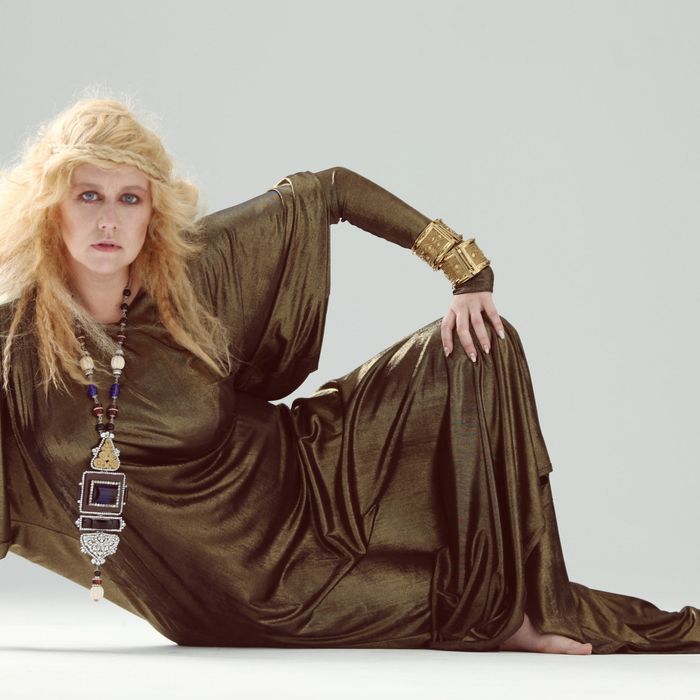 If you picture a 39-year-old singer-songwriter who lives in Burlington, Vermont with her husband — who is contemplating homesteading — it's safe to say you're not picturing Heloise Williams. But it's fun to imagine the looks she might get up among the Birkenstock-wearers. When we meet at Roebling Tea Room, she's wearing New York black, accessorized with a child's Mickey Mouse baseball cap, fringed Jeremy Scott high tops, a rhinestone-encrusted manicure, and peroxide blonde milkmaid braids that she's eager to reveal are extensions.
"All these bitches wear wigs," Williams tells me over pansy-colored cocktails. "I was resistant for so long. It's fun. I do feel like I'm in drag a bit."
Williams is in town to celebrate the vinyl release of her dance record, Diamond Dust, her second as Heloise and the Savoir Faire, along with actor Elijah Wood at the Ace Hotel Tuesday night.  (Williams is on Wood's record label, Simian.) But nor does she fit the profile of the electro-pop diva, even if she does resemble one. Williams is best known as the front woman of a Brooklyn-centric, Debbie Harry-championed theatrical disco pop troupe. The band shed six of eight (give or take) musicians and dancers between its 2008 debut Trash, Rats, and Microphones and the new album, so Williams is now basking in the logistical and creative efficiency of going solo-except-for-your-husband-on-guitar.
"The business aspect of all arts escapes me," she says, "but I feel like I'm getting better at it." We had been talking about about offloading her vintage Ungaro and YSL collection (she always forgets to charge more than a $20 markup), but now we're talking about her band. "Having six people travel around is expensive, so if you want to actually survive … " Williams says, in a voice like "duh." "I have a spread sheet. I'm paying attention to it now."
The pared-down act is a big change for the woman known in New York circles for bringing, in her words, "the most elaborate productions to the shittiest rooms ever," featuring choreographed dancers in matching ensembles by designer Todd Thomas (master of camp for Victoria's Secret's annual runway circus), when they wore anything. But without all the people to manage and on stage distraction, she says, "I feel like I'm connecting with people for the first time."
Williams and husband/guitarist James Bellizia moved to Vermont, where his family lives and where she went to college, after 2008's Microphones, for a summer break that stretched into a four-year hiatus. "I was deep in some Internet k-hole research," Williams says of the period, when she read Joseph Campbell mythology books and William Morris translations of Norse myths. "Then I was like, well, God, who cares what I have to say? I should be helping people." She went back to school to fulfill her pre-med requirements, but was reaffirmed of music's importance when she wound up working in a research lab studying its effects on the brain, to see if music can be prescribed as a pain analgesic. Specifically "big, woman vocalists," Williams says. "It was Celine Dion. Whitney Houston. Big football players would come in and be like" — here Williams shifts to her bro voice — "Yup. Every time. This is where I get the chills."
She decided to get back to making the music, not studying it, and the result is a dance record full her own big, woman vocals, plus lots of liberal arts-ish references that Williams can barely talk about with a straight face. The title, Diamond Dust, refers to the carbon molecule. "It's what we're made of, it's what diamonds are made of, it's the hardest material, death is rebirth, blah, blah, blah"— and there are allusions to the Prometheus myth, Beowulf, C.S. Lewis, and John Hughes. "You can't tell any of this from listening the album!" she says, more apology than promise.
In spite of its grandiose themes, Williams says it is her most personal work yet, because she made it alone, safely removed from the radius of New York influences: "cool kids, surface, members' only kind of things." Which is not to say she doesn't still feel their allure each time she's back. "Everything I do is here," she says. (As if on cue, former Heloise dancer Joe Shepard shows up for his bartending shift.) But Bellizia — a carpenter and former organic farmer — wants to homestead. They could always do both, she says, a subsistence farm in Vermont and an apartment in Greenpoint. "Now I just have to go out and sell one car commercial," she says, "and we'll be great."