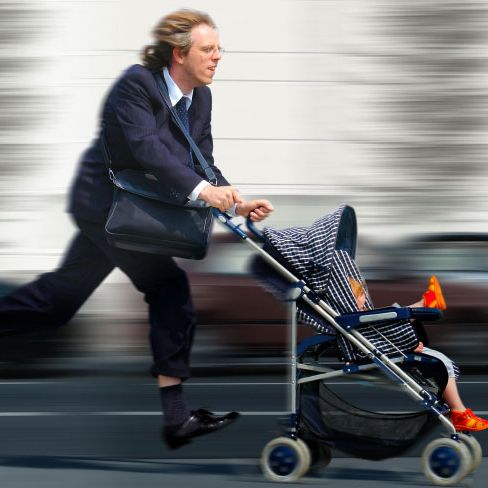 Photo: Ursula Deja-Schnieder/iStockphoto
You can lead a man to gender-equitable parenting, but you can't make him take his paid paternity leave. Although companies like Yahoo and Bank of America are getting good publicity for their generous and progressive parental leave offerings, The Wall Street Journal reports, men continue not to take advantage of them (or only use a fraction of them), out of fear of falling behind or losing face.
According to a survey from leadership consulting group Korn/Ferry, the Journal reports, three quarters of male executives believe paternity leave is an important retention tool, but only 15 percent of them reported taking it themselves. In a study of college professors, only 12 percent of fathers took paid leave, compared to 69 percent of mothers. At Ernst & Young, hundreds of men take paternity leave, but 90 percent only take two weeks. In order to take the full six, men must "affirm that they are the baby's primary caregiver" — a policy that seems designed to discourage workers from deviating from traditional gender roles. That, and all the mockery: "A forthcoming paper from the University of Toronto … found that men who are active caregivers get teased and insulted at work more than so-called traditional fathers and men without children."
Their reluctance should come as a surprise to no one. Even aggressively gender-neutral Sweden realized years ago that you basically have to pay dads to take paternity leave. But it pays off, big time, in the long run. Cornell's study of a paid paternity-leave quota in Quebec reported in The New York Times Magazine found that even years later, fathers who took leave did more of their share of child care and domestic work, and their partners spent "considerably more time at work growing their careers."  The U.S. is the only industrialized nation not to require some kind of paid parental leave.