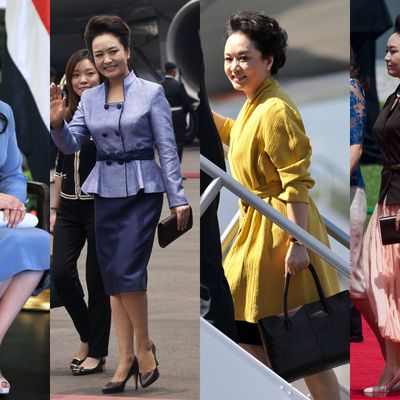 "Michelle Obama of China" Peng Liyuan will not be meeting real Michelle Obama during her weekend at "Camp David of the West" Rancho Mirage. (She and husband Xi Jinping are probably chilling with Barack Obama in southern California as we speak.) This is either a thoughtless snub, a shrewdly calculated snub, or evidence that MObama "is just really busy" because Sasha and Malia are about to start summer vacation.
Foreign Policy's Isaac Stone Fish points out that Peng Liyuan's career as a Chinese military propaganda singer means she is a high-ranking member of the People's Liberation Army, and thus a more polarizing figure than you would usually find in a MObama meet-and-greet. (Peng sang in praise of the Chinese military in Tiananmen Square after the 1989 crackdown.) Nonetheless, the Chinese are expected to be "disappointed" by MObama's absence, in part because she is a popular figure in China, too. Commentators like to point to Peng Liyuan and her daughter as emblems of modern Chinese femininity. Michelle and her daughters are often held up for comparison, the New York Times explains,
The two women are about the same age: Ms. Peng is 50, Mrs. Obama, 49. Both recently made the Forbes list of the world's 100 most powerful women and Time's list of the 100 most influential people. Both are mothers as well as professionals. Ms. Peng and Mr. Xi's daughter attends Harvard, and apparently also has a mind of her own: She reportedly resisted her father's attempts to get her to return to China and a college there once he took power.

Like American first ladies, but unlike spouses of past Chinese leaders, Ms. Peng has taken a high-profile role in promoting social causes — against tuberculosis, AIDS and tobacco use — as an ambassador for the United Nations and the World Health Organization.
Will we at least get to see some Chinese First Lady outfits? Before arriving in California, Peng and Xi toured Latin America. Above, outfits Peng wore in Mexico and Costa Rica. (Peplum!) Unfortunately, Peng is not so good at posing to maximize outfit exposure — perhaps because nations that lack free speech have relatively weak paparazzi corps.