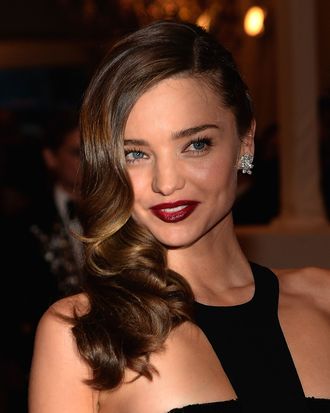 Photo: Dimitrios Kambouris/Getty Images
Former Victoria's Secret Angel Miranda Kerr, who's most recently posed topless for Vogue Korea and modeled skimpy swimwear for Net-A-Porter's The Edit, was threatened* by one of her long-time stalkers — a 52-year-old named Steven C. Swanson from East Sandwich, Massachusetts. According to the Cape Cod Times, Swanson allegedly called the Los Angeles County Sheriff's Department and expounded on his cross-country plot to kill Kerr, who he referred to as his "soul mate." He said that, upon landing in Los Angeles, he would "turn the place upside down," and later, as he was getting arrested by Sandwich police, claimed that he was flying out to Los Angeles to "rescue" the model. (From Orlando Bloom?) Swanson has pleaded not guilty, but a doctor has testified that he suffers from schizophrenia and bipolar disorder. In the meantime, here's hoping Kerr and her family remain safe.
* This post has been updated.