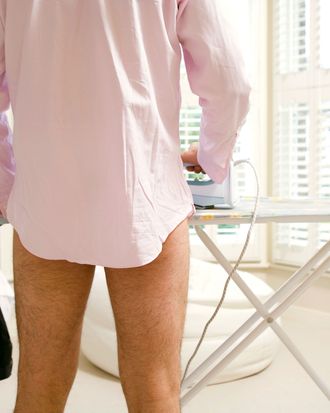 When I heard George Clooney goes to the spa to get his balls pressed wrinkle-free with a laser, or, in his words, "ironed," my first thought was, Does it hurt? But a quick phone call to Beauty Park, the Santa Monica medical spa run by cosmetologist-to-the-stars Jamie Sherill (or Nurse Jamie, as she prefers) alleviated that concern. "It used to be almost that you wanted a Vicodin. Now you don't even need numbing cream."
That's comforting because, according to the Daily Mail and countless other publications who picked up their story (the Cut included), these lasers were the key to aging as gracefully as the King of the Silver Foxes; Clooney (jokingly?) even told two different men's magazines he gets the procedure. One day, when I got older and saggier, I too would need to get my scrotum straightened out. And Sherill, with her $575 "male laser lift," would be my provider.
But there's one problem: Ball ironing doesn't actually exist. At least not in the way it's been described all over the Internet. "It's not a direct laser beam on the area," she explains, referring to the scrotum. "I think that [the articles] even said that [the treatment] removes every wrinkle, and that's definitely not true." She pauses. "I think that would be dangerous."
Indeed, a quick Google search for "why are my balls wrinkly" gives a decent reminder of high-school biology: The sack needs extra skin so it can expand and retract to maintain the ideal temperature for sperm production.
So what happens at an appointment like this? "We do laser hair removal in the male bikini area. We tighten the buttock area, the inner thighs," with a laser called the Accent. If there are pigment changes or skin tags in the area, as both Sherill and her manager Wendy Walters repeatedly called the groin, they can also remove those. A different resurfacing laser, called the Pixel, is beamed around the area for additional tightening. "But it's not about removing every line out of the scrotum," Sherrill adds.
(That treatment would require a visit to a plastic surgeon and is called a scrotoplasty. But even surgery wouldn't remove every testicular nook and cranny. And, usually, a scrotoplasty is for people in need of scrotal reconstruction, like trans females-to-males looking to shape external genitalia into a penis and scrotum.)
To compare, Walters says their procedure is "basically a facial in the area." To Sherrill, it's analogous to a female treatment called the "vaginal rejuvenation," made popular when she rejuvenated the vaginas of the cast of VHI's Hollywood Exes on television.
She first put the male version of the treatment on the menu in 2011, but says she didn't know Clooney had told Esquire about ball-ironing back in 2008 ("Unfortunately, I do not know George Clooney"). Yet the actor's more recent joke in the January issue of the Italian magazine Max and the Daily Mail's decision to profile Beauty Park as the mecca for this new "Hollywood Craze" has essentially made "ball-ironing" go viral; Sherill tells me the spa's website has crashed twice, and Walters says they've received phone calls from as far away as India and Australia.
While business has grown among males in recent years, the guy who gets the male laser lift is not the typical client. "That's gonna be someone that's on-camera," she explains, noting that appointments for men uptick during awards season. "There's only so much you can do with personal training and home-delivered meals. Sometimes you need a little help from a laser." Just not directly on your scrotum, it turns out.