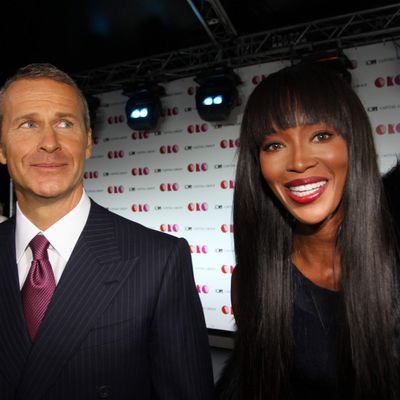 Vladimir and Naomi.
Photo: PhotoXpress/ZUMAPRESS.com/Corbis
More developments in Naomi Campbell's love triangle, which involves her ex-boyfriend Vladimir Doronin and her former protégée from The Face, Luo Zilin: The Post reports that Campbell is trying to get Zilin fired by her manager in China. This follows Zilin's abrupt dismissal from MIX Model Management NYC last week for "unprofessional misconduct" (i.e. making out with Doronin in Ibiza). The Post's unnamed "source" says, "Naomi has been calling colleagues in the industry to try and stop Luo's career."
Or maybe not. Another "source" says that Campbell really couldn't care less what her ex and Zilin are doing on beach chairs, and hasn't made any efforts to ruin Zilin at all. Meanwhile, MIX president Neal Hamil clarified that his decision to terminate her contract had nothing to do with Campbell. An excerpt from his e-mail to the Post:
I would just like to clarify that the decision concerning not to continue representing ZiLin was made on Memorial Day when she phoned me to say she was boarding a flight to China.

I informed her that doing so was in direct conflict with what [we] had discussed for her in further developing her career… I told her then that we would no longer represent her and I also informed her manager in China, whom I have great respect for, of our decision to terminate our professional relationship with her client.

I had absolutely no knowledge of her plans other than she was returning to China. It is disappointing that it did not work out but talent and manager must be equally committed and working in tandem. We wish her the best in future pursuits but this was a professional, rather than a [personal] decision.
Either way, Naomi comes out of this situation on top, and she knows it.