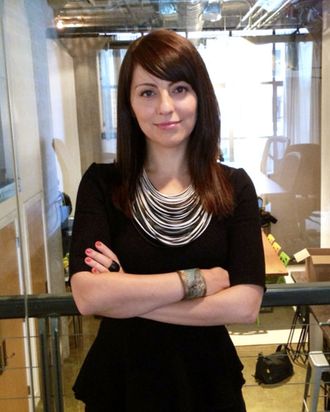 Photo: Courtesy of Wanelo
In 2010, product designer Deena Varshavskaya noticed a gaping hole in the vast, beautiful vortex of Internet shopping: There was no cohesive social experience. While fashion addicts today have online pin boards to cull together latest dream finds or sites that help burgeoning stylists assemble ideal outfits for every mood onto a personalized space, Varshavskaya hoped to inject the shopping experience with more interactivity. "Once I realized that there was a need (I wanted to see what my friends shop for),  it became obvious that there was an opportunity to create a really strong social experience that's focused on shopping," Varshavskaya told the Cut. She designed Wanelo (a portmanteau of the words "Want, Need, Love"), as a site that would merge store, products, and people.
Judging from Wanelo's 8 million registered users (a number that's increased from 1 million members in November 2012), Varshavskaya has satisfied a need. The San Francisco-based company, employing seventeen team members, acts as almost a giant, democratic mall of the Internet (cultivated solely by its members) and also serves as a one stop shopping cart. Rather than serving as an assortment of pretty images living on a pin board, all the the products saved on Wanelo's personal feeds link back to the original product for easy purchasing. While similar sites like Svpply exist, Wanelo was specifically designed by a woman for women; 90 percent of Wanelo members are females who live in the United States. The Cut sat down with Wanelo's founder and CEO to discuss the brand's viral growth, her experience being a female on top in a male-dominated industry, and the importance of cultivating personal style.
There are tons of men building shopping sites for women. You've managed to build a site from scratch and have attracted the female audience. What made Wanelo different from competitors?
For me, it's really been focused on what I want to build, more so than thinking about what men are doing. When I was starting out, there were a couple of sites out there that I thought were going after something kind of similar, but they were doing something wrong, which was really obvious. They were lacking authenticity and creating fake, artificial experiences. Wanelo is very much about what I want as a user. It's very much about creating extreme utility around shopping. Why should shopping be so complex and primitive? Our goal with Wanelo is to bring all stores and all products to a single platform and give you a single place where you can get a single feed of all of your favorite stores and all of your favorite people. For me, the motivation was: If I like your style, why is it not possible for me to go see where you shop? See what stores and products you like? It's just a no-brainer. That was the starting point for wanting to create the experience.
What prompted this site specifically?
It was about thinking about the future of advertising and realizing that this is going to change because users today own their experiences and so they really need to be empowered to make their own decisions. That's why social experiences really work: It's about you and the things you like.

I read that you were inspired by your friends and their styles. Can you expand?
It's just natural, I think. If you are someone who wants to be creative with what you wear and what you put in your house, its very natural to look at people you admire and ask yourself, or ask them, "Where did they get the stuff they like?" But outside of Wanelo, we only ask in a very small minority of cases. You really aren't going to go out of your way every single time to be like, "Well, what shoes do you like, and what jewelry do you like, and what stores do you like? So it really makes sense to have a single profile where all of that is available.
There are so many competitors on the market. Somehow, you've managed to gain many users despite that. What do your secret is?
It's the focus of Wanelo on shopping and commerce. I think what works about Wanelo is the purpose is so obvious. If you talk to our users, they'll say its like Tumblr except you can buy all of those things you find on Tumblr. So the buying aspect is really critical to the experience and our users are on Wanelo precisely because everything is purchasable and that's what's exciting to them. It's interesting comparing that to other platforms where people really don't like being sold to. On Wanelo, that's what users want. They want products that they can buy.