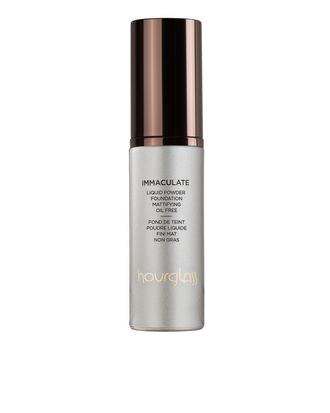 My oily, breakout-prone skin has always caused two dueling problems: Wearing foundation evens out my complexion and controls shine, but it inevitably slicks off (along with any other makeup I'm wearing) by mid-afternoon. I've tried primers to extend the staying power, but don't like the masklike feeling of wearing two full-face products, so I tend to save them for special, photo-heavy events. So when I came across Hourglass's Immaculate Liquid Powder Foundation, I was interested to learn more. The fragrance-free, clay-based formula promised all-day wear that would last on my skin, absorb oil, and dry down matte without irritating skin.
Right off the bat, I was pretty hooked: The finish was the same as with a setting powder and the coverage was full enough that it nearly eliminated the need for concealer (I still used a bit to cover under-eye circles). And, lo, it was still there at the end of a nine-hour day. A touch-up was necessary before after-work drinks, but I couldn't remember the last time my makeup had made it through the afternoon so well.
I kept using it regularly, and after a few weeks, I noticed that the foundation's only downfall was that it felt a bit heavy and chalky on days when my skin was dry. During those moments, I worried that it was settling into any fine lines or enlarging my pores and making them more obvious. My solution was to just trade off and use a more hydrating product like Sephora Instant Radiance.
Back to Hourglass: The packaging also claims this foundation can improve skin's overall condition. It contains anti-aging and wrinkle-fighting ingredients, and (in a company-commissioned study) 70 percent of women reported "visible improvement in pore size," among other results. I can't say that I've noticed any dramatic changes that I could credit to the product, but that could be because I don't use it every day. But, even without experiencing those claims, it's definitely earned a permanent (if not daily) spot on my roster. The all-in-one aspect is a nice time-saver in the morning, the length of wear is unmatched, and it didn't even make me break out on the couple of occasions when I committed the cardinal beauty sin: falling asleep while still wearing it.