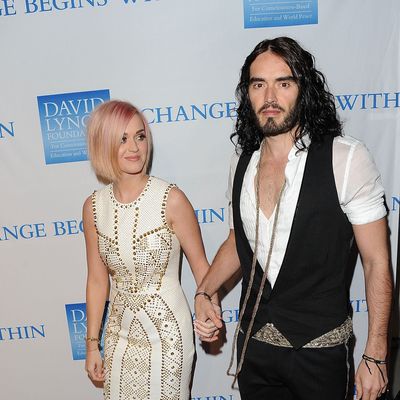 Photo: Jason Merritt/Getty Images
Trash-talking your ex in public isn't necessarily a good look, but it's always chic when you do it in Vogue. (Also works with the New Yorker.)  Katy Perry's Vogue dish on ex-husband, comedian Russell Brand is a masterpiece in sympathy garnering and self-preservation, starting from the casual revelation that he divorced her by text message. "Let's just say I haven't heard from him since he texted me saying he was divorcing me December 31, 2011," she tells Vicki Woods. No need to remind you that's New Year's Eve. 
When Woods mentions Brand's redeeming quality — his sense of humor — Perry reveals its devastating dark side.
"Hysterical in some ways. Until he started making jokes about me and he didn't know I was in the audience, because I had come to surprise him at one of his shows. So. Hysterical to a point."
Next, Perry subtly emasculates and further villainizes Brand by suggesting he couldn't handle her power, a.k.a. a little something for the feminists. 
"At first when I met him he wanted an equal, and I think a lot of times strong men do want an equal, but then they get that equal and they're like, I can't handle the equalness. He didn't like the atmosphere of me being the boss on tour. So that was really hurtful, and it was very controlling, which was upsetting."
Ever the diplomat, Perry takes some responsibility for their breakup. She was so busy touring the world as an international pop star. But, to be fair, she did invite him, as you may have seen in the documentary about her (Exhibit A: Katy Perry: Part of Me).
"I have to claim my own responsibility in things. I do admit that I was on the road a lot. Although I invited him time and time again, and I tried to come home as much as I possibly could. You saw that in the movie." [ … ] "That wasn't edited to leave footage out — there wasn't any footage of him."
The coup de grâce comes when Perry hints that none of the above holds a candle to the actual dirt on Brand.
I felt a lot of responsibility for it ending, but then I found out the real truth, which I can't necessarily disclose because I keep it locked in my safe for a rainy day.
It's enough to make a tabloid addict seriously question how much longer she can stay mad at Perry for running around with Robert Pattinson while poor Kristen Stewart is in agony.
Brand, for his part, has not been shy about the marriage either. He was gabbing to Marc Maron about his issues with monogamy less than a week after he'd sent the text in question, and recently told a U. K. radio program that their marriage was "a drag."