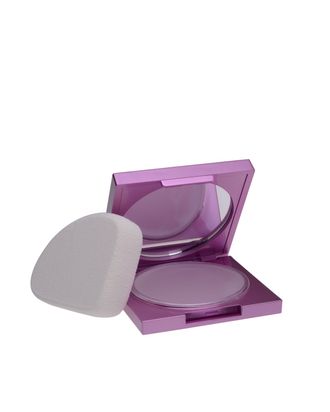 "My biggest peeve during the summertime is to be outside with a beautiful woman and see her gorgeous face with thick, heavy, cake-y makeup on," says celebrity makeup artist Mally Roncal (clients include Beyoncé, Jennifer Lopez, and Angelina Jolie). Her simple solution? Evercolor Poreless Face Defender from her eponymous makeup line.
While it feels like any other silicone-based primer, Roncal's version comes packaged in compact form for easy, post-makeup application. Yup, it's the last step in your face-painting routine. "I call it the 'first clear powder,'" she explains of the product's mattifying abilities. "I am a huge non-believer in translucent powder; it's not actually translucent, it's white. So basically what it's doing is making your skin look like Casper the Friendly Ghost." Remember Nicole Kidman's own powdery debacle?
An oversize wedge sponge is included with the compact for quick and easy application. Roncal advises a "tap and press" process where, instead of sweeping it across your complexion ("because you'll move the makeup around"), the sponge is used in a stippling motion on the forehead, cheeks, nose, and chin. The tint-free product will absorb oil throughout the day and give the face a soft-focus finish.