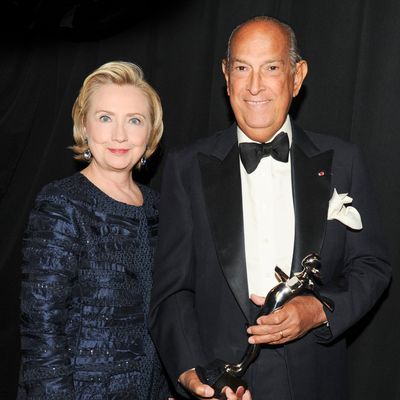 Hillary Clinton and Oscar de la Renta.
Photo: Neil Rasmus/BFAnyc.com/BFA NYC
At 92Y last night, Oscar de la Renta clarified a few things about his collaboration with John Galliano, which lasted for several weeks in January and February of this year. First of all, it turns out that Galliano approached him, not the other way around. Secondly, de la Renta said the collection was almost entirely done when Galliano arrived to lend a hand. Although the former Dior designer, who's getting a juicy profile in Vanity Fair's July issue, departed the fashion house after the fall 2013 show, de la Renta did not rule out the possibility of working with him in the future. His exact quote, via Fashionista:
John came to me because be wanted to re-enter the business. His problems are not my problems. He's a wonderful guy, unbelievably talented, and we had a wonderful time together. It's important to have someone that challenges you — 75% of the collection was done by the time he got there. But I think that there were a lot of things that John tweaked around. Everyone in life does deserve a second chance.
And because no one can ever let this matter rest, he was asked about the Michelle Obama kerfuffle yet again, and reiterated that he would love to dress her, thinks she's beautiful, blah blah etc. He gets points for not getting annoyed when people bring it up for the zillionth time:
Would I love to dress her? I would love to dress everybody! She's a very good-looking lady and it's her own right to wear what she wants to wear. But I was upset when the Chinese Prime Minister came to visit and she wore a foreign designer. What a lost opportunity to showcase our industry. I'm sure she didn't do it on purpose, but she was not well-advised.
Finally, he confirmed that his cancer has not returned since 2011, saying, "I am, right now, totally clean." And on behalf of Hillary Clinton and all the other ladies who depend on him, we thank goodness for that.