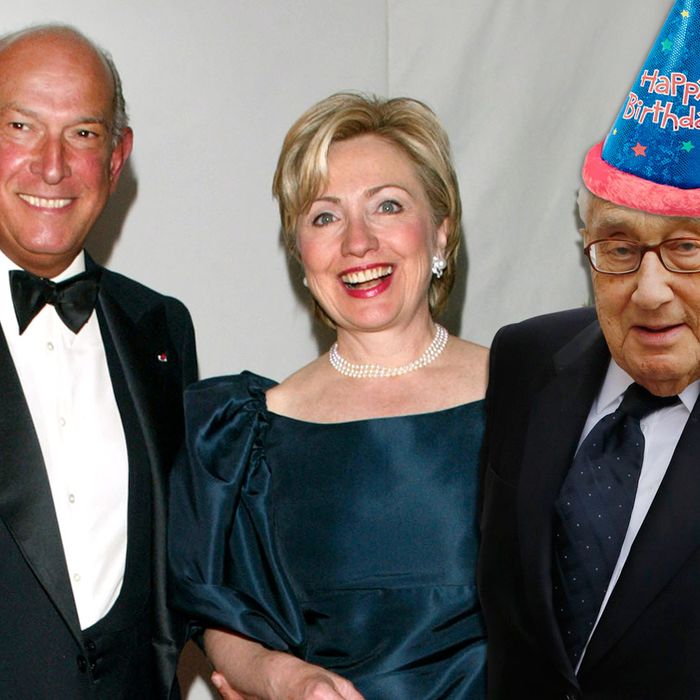 Photo: Evan Agostini/ImageDirect; OLIVIA HARRIS/AFP/Getty Images; Party Works
There's nothing the fashion world loves more than to be taken seriously, so when major dignitaries like Hillary Clinton attend industry events like tonight's CFDA Awards, folks get pumped — not that they'd actually deign to show it, of course. Clinton will be there to present the Founders Award to her old friend Oscar de la Renta, who has outfitted her many times over the past several decades. But don't expect her to schmooze and pick at the cucumber hors d'oeuvres after the ceremony; fashion people aren't that important! According to WWD, both she and Oscar will skedaddle off to Henry Kissinger's 90th birthday before the awards show is even over. How very Anderson Cooper of them, double-booking their Monday evening. 
WWD reports that Clinton and De la Renta were so adamant about their tight schedule that the CFDA changed the program, slating Oscar's award first instead of Vera Wang's Lifetime Achievement Award. To be fair, Kissinger's party will be a major to-do, and both Clinton and de la Renta and their respective spouses are close with the birthday boy. The guest list includes all past secretaries of State, as well as current secretary John Kerry. Kissinger is such good friends with Annette and Oscar de la Renta that he dedicated his most recent book, On China, to them, and has spent extensive time at their home in the Dominican Republic.
While it's too bad Clinton can't stick around for the CFDA after-party (-ies), we'll take what we can get from her. And happy 90th, Henry.