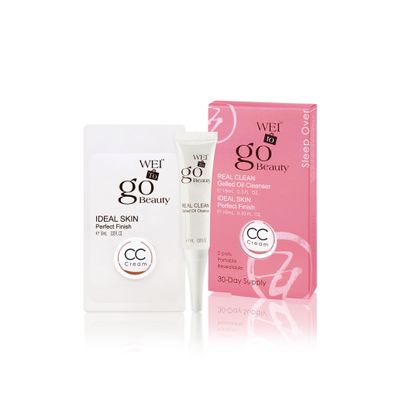 Way more convenient than filling travel friendly bottles, Wei Beauty Go's "Sleep Over" kit comes with one skinny tube of their Gelled Oil cleanser and a packet of CC cream. The oil-based cleanser will gently wash off any makeup and dirt. The CC cream, available in three shades, will supply light, skintone-evening coverage and comes in an ultra-thin, resealable sachet. The kit costs $19 and should last you thirty days. Then you're done. No need to feel shopper's remorse if you don't enjoy the product or feel guilty about the leftovers.
Here some some month-long situations ideal for this convenient cleanser and makeup duo:
• A 30-day trial fitness class membership: No need to schlep around your entire makeup kit for an overpriced workout class you'll never go back to anyway.
• A 30-day backpacking trip through anywhere: The products' combined weight is less than a mini-package of Kleenexes.
• A 30-day summer fling: Girl meets boy. Girl stays over boy's house on the regular (it was an immediate love-your-body connection). This is still too soon to leave a bottle of facial cleanser on his sink, so instead, Wei Beauty is there for you. Plus, it's not like he's your ideal boyfriend anyway.
• A 30-day streak of sleeping under your desk office: Maybe you're on deadline and your boss is a psycho. Either way, doesn't mean your skin has to suffer as much as your mental and physical well-being.
• A 30-day trip spent at sea on a yacht with Johnny Depp: It's the stuff of dreams, so you might as well have clean skin. Just don't let him borrow any.