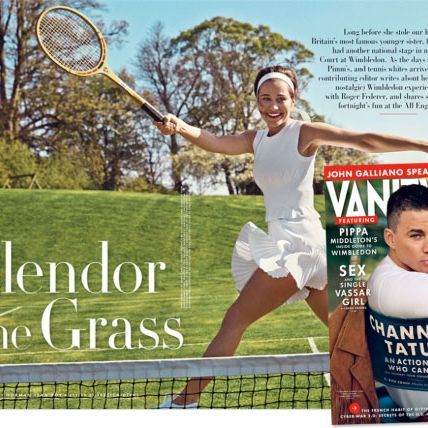 Pippa.
Photo: Vanity Fair
Although this probably doesn't have anything to do with her mysterious, newly registered company, Pippa Middleton has signed on as a contributing editor to Vanity Fair. According to editor Graydon Carter, she'll write a regular column about "classic British pastimes":
She is also an avid sportswoman, and we look forward to her take on traditional English pursuits, beginning with Wimbledon.
And lo, Pippa's first column recounts her many racquet-related memories, including a story about waiting in line for three hours to purchase tickets with a certain sister of hers (almost as common as shopping at H&M, but not quite). The text is accompanied with the above spread of her leaping across a grass court in her tennis whites, her skirt flapping just enough to keep her undies covered.
In addition to her widely panned coffee-table book, Celebrate, Pippa has written about skiing for British magazine the Spectator as well as a regular recipe column for Waitrose Kitchen magazine called "Friday Night Feast." It can only be a matter of time before Vogue comes a-knocking.