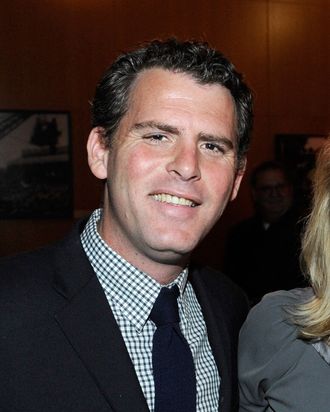 Photo: Frazer Harrison/Getty Images
Playboy magazine has undergone a brand makeover intended to attract millennial female readers, Slate's Amanda Hess reports. The men of Playboy tell Hess they've generously abandoned their aesthetic of "unattainable perfection" in favor of a "Darwin-given gorgeous" (get it?) and "more healthy, naturalistic look." They believe all the silicone they featured for several decades prompted "unhealthy competition" among women. How considerate. But they won't go so far as to feature nude men.
According to CEO Scott Flanders, "men aren't comfortable" with what they call the "pickle shot." But not, curiously, Playboy editorial director Jimmy Jellinek. Hess writes:
"Nowadays, you don't see a lot of men's cocks, even in movies," Jellinek said. We discussed the exceptions: An extended bottomless display in Hall Pass. The Borat nude wrestling scene. Michael Fassbender's stiff performance in Shame.

"Beautiful penis," Jellinek said.

"Huge penis," I added.

"Personally, I'd like to see more God-given normality in that area," Flanders said.

"See, I'm in the minority. I can appreciate a good piece of equipment," Jellinek said. "There's a hypocrisy in consumer culture today," he continued. "As difficult as it is to show nude women, it's that much more difficult to show nude men." After all, "men dominate all forms of media, so they're going to dictate the tastes that are unleashed among the masses."

"He's a socialist," Flanders told me.

"With a Porsche," Jellinek added.
Perhaps if Jellinek were in charge, women — who like sex, it turns out — would read Playboy and men would know a little about "unhealthy competition."