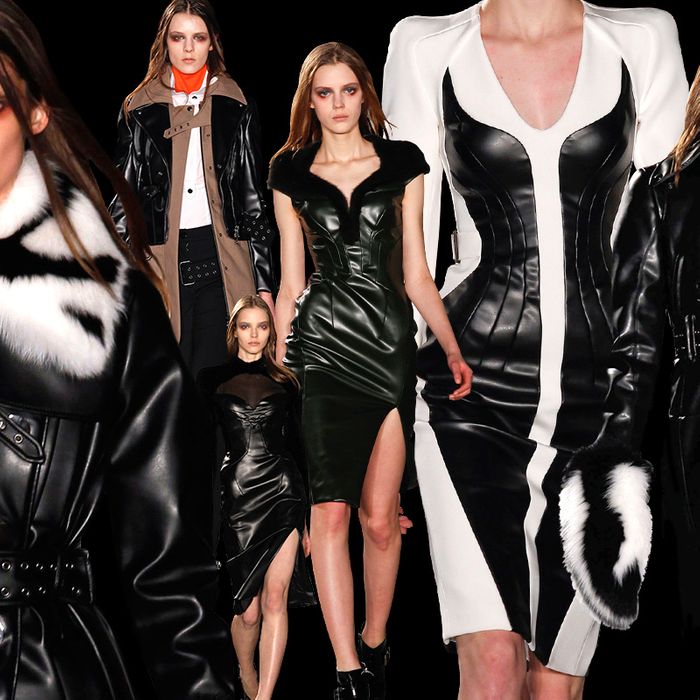 When Anne Hathaway showed up to her Les Misérables premiere in New York wearing a pair of shiny black stiletto bondage boots made custom for her by Tom Ford — from fake leather — onlookers cooed, but wrote them off as a vegan thing. Little did they realize this would be the starting point in what's become the Year of Pleather: Joseph Altuzarra used it to acclaim in his latest fall collection, which was worn by Carine Roitfeld during last Fashion Week and later by Madonna, who Instagrammed herself at a party on Oscar night; Michael Bastian turned to it for outerwear; and in the latest resort collections showing this month, Stella McCartney — an early adopter who has used the fabric for a decade in her own legitimately vegan line — seemed to expand her interest in the material even further: At Monday night's rainy garden party, there were shelves of pastel clutches, clogs, and geometric handbags offered up in the stuff, row by row, not to mention snake prints and other animal motifs that played on the no-cruelty theme with that same buttery feel to them.
Pleather, as it was once known exclusively, is one of the rare trickle-up fabrics, moving in the last decade from the sex shop on the corner to racks at Barneys. "The poly-leather is incredibly luxurious, the way that it wears over time," Altuzarra explains of his collection, including precision-cut bodycon dresses (sometimes trimmed in real fur, like Madonna's choice) and coats that are lighter than their cowhide counterparts. "It doesn't wrinkle. It travels really well. It's waterproof, so if you wear it in the rain it completely repels water. There's something sort of magical about its properties."
That's because, unlike actual leather, the technology can be gamed to suit design strategies. "It's very hard to alter the surface of a cow," jokes Andrew Dent, the vice-president of materials research at Material ConneXion, a consultancy for new fabrics. By building a textile from scratch rather than using an animal's hide, he says, "everything's up for grabs." Designers can request something that sparkles or ask that it becomes a little more glossy or even saturated in a rich or bright shade no tanning process could mimic. Fake suede, a related but relevant category, has microfibers that can be split again and again at the ends to increase fineness, like a version of touching regularly soft suede on Molly.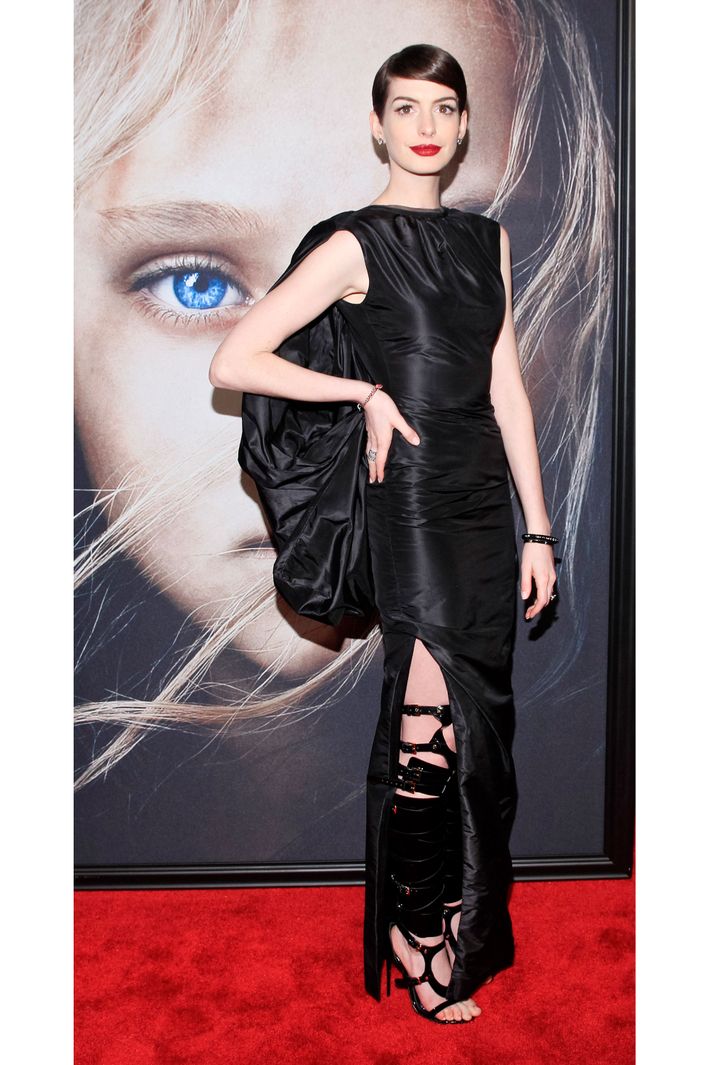 Most of these faux leathers are made by layering a plastic on fabric; for most of the twentieth century, that plastic was PVC — the pipes in your plumbing — which created the tragedy known as Naugahyde. In the seventies, manufacturers started experimenting with polyurethane as opposed to PVC, and since then, advances in polymer chemistry have created new ways to apply the coating to the backing, resulting in textiles that feel and wear more like the real stuff, if not better, but won't age, become discolored, or stretch out over time. All this, and the faux garments can be more affordable for consumers, too, if only relative to the rest of the luxury spectrum: Altuzarra's fall 2013 "Prince" motorcycle jacket in lambskin will cost $4,065, while a similar poly "Spring" motorcycle style goes for $2,595; McCartney's handbags average around $1,000 at Bergdorf Goodman.
The people who study and create these materials work for Dow- and Corning-like firms, mostly in Japan. "You see a few smaller houses playing with this, but most of the innovations I've seen have come out of larger companies," Dent adds. By adding acrylic, PVC, and layers of different polyurethane in different thicknesses all together, "they'll layer it up to really mimic leather as closely as possible."
Bastian's Italian manufacturer was the one who suggested he use faux suede in place of the natural option for his double-sided puffer vest. ("The factories are always the ones seeing the new stuff first," he explains.) Unlike Altuzarra, animal suede had been the initial plan, but the imitation he used, named Alcantara, had the advantage of being waterproof, yes, and not rubbing off on clothing when the suede side was worn inward. "It looks exactly like suede, so we went with it."
PETA celebrates these materials as "cruelty-free," and indeed, their use has coincided with a growing interest in veganism in general. But calling them "vegan leather" seems like an oversimplification to many of these designers, most of whom seem to want to avoid the connotation that their clothing is just for animal-cruelty advocates. "The name 'vegan leather' is presented by some people like there's this superiority now," says Timo Rissonen, who teaches classes on sustainability at Parsons. "Why are we even calling it leather? Because it's something that people can easily understand."
And, obviously, there's no connection with the tanning industry. In fact, Altuzarra says he gets his latest stuff from the same Italian firm that sells Prada their famous technical nylon. And he uses the same analogy as Rissonen, from Parsons, when discussing its obvious connection to carnivorism. "If you go to a vegetarian restaurant and you order a vegan burger," he begins, "if you're expecting it to taste like a meat burger, you're going to be disappointed. But if you sell it as just its own thing, that it's a patty made with vegetables — that it's a fabric of its own, in this case — you have to embrace it for what it is."
Before he released his pieces, he visited a Comme des Garçons store. There, the avant-garde designers have been selling the same motorcycle jacket for nearly 25 years, often — surprisingly — constructed from faux leather, rather than real. So he asked the shopgirl how the latter performed. It still sells out, she told him. "They like what it looks like, and they buy it," the designer says now. "People just don't care."