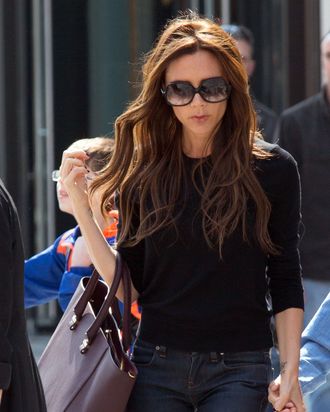 Photo: Marc Piasecki/FilmMagic
Victoria Beckham wannabes and general heavy-bag-carriers, beware: According to the London Express, "medics" have coined a new name for a condition they've noticed in women who carry gargantuan designer handbags in the crooks of their elbows. Called "Poshitis," symptoms include torn muscles, inflamed shoulder tendons, and possibly even Posh's trademark scowl from all that pain. Physiotherapist Sammy Margos issued the following warning:
Women may think they are following a catwalk trend but they are storing up trouble … We have seen handbags which weighed a huge 1½ stone. It can cause repetitive strain injury and pain in the shoulder and neck.
While the name is clever, this isn't a new phenomenon. Last year, Simon Doonan admitted to the Cut that he suffered from bicep tendonitis from carrying his Goyard man-bag. And to make matters even more nonsensical, there's no record of Beckham herself suffering from her namesake condition. She even regularly swaps out her large purses for a human child — maybe she's just conditioned to handle it.