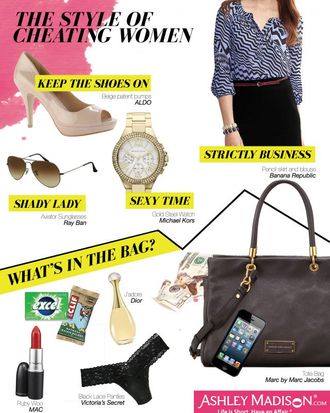 The philanderers over at cheating site Ashley Madison recently polled more than 50,000 women to determine which brands and wardrobe staples they prefer for an extramarital tryst. Good question! Sort of like shopping advice for a very specific woman. And now, labels like Banana Republic, J.Crew, and Chico's are getting a racy-by-association makeover.
Anyone expecting a wardrobe of Kiki de Montparnasse and Agent Provocateur might be disappointed, as it seems adulteresses head straight to business-casual stalwarts to "spice" up their wardrobes: Banana Republic topped the list. According to CEO Noel Biderman, "If your spouse suddenly seems more consumed with style and putting outfits together after spending years in sweatpants, that is a telltale sign she could be two timing." In addition to brands, the survey points out "maxi dresses, colored skinny jeans, and pencil skirts with slits"— secretary fantasy, duh — as key trends in this growing sector. Accessories were also tabulated: If a friend starts wearing Aldo pumps or Ray-Ban aviators, perhaps it's time to ask her how her marriage is going.
The (admittedly dubious) survey also revealed that 12.4 percent of cheaters admit to returning items worn during a rendezvous. Consider that a PSA to launder every item you buy at the mall.