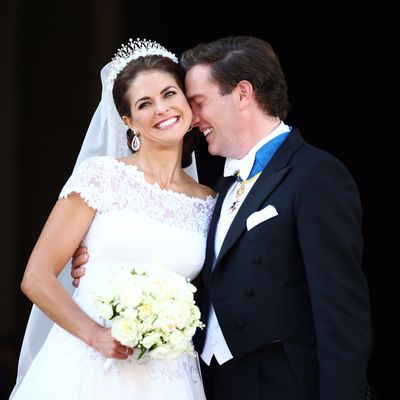 Photo: Andreas Rentz/2013 Getty Images
Another year, another royal wedding: Princess Madeleine of Sweden got married in Stockholm on Saturday in a gown by Valentino, who comes out of retirement every now and then for such occasions. (He's previously made wedding dresses for Jacqueline Onassis, Queen Maxima of Holland, Princess Marie-Chantal of Greece, and, most recently, Anne Hathaway.) Should you be curious about the kind of wedding dress that neither you nor your friends will ever be able to afford, here's what it was made of, according to Valentino's press release:
The dress is created in silk organdies with applications of ivory Chantilly lace. The waist is emphasized by small vertical pleats that open and spread out on the full skirt with a 4-meter long train.  The veil, at 6-meters long, is silk organdies edged with tulle "point d'exprit" with an application of Chantilly lace flowers. The royal tiara is decorated with fresh orange blossoms.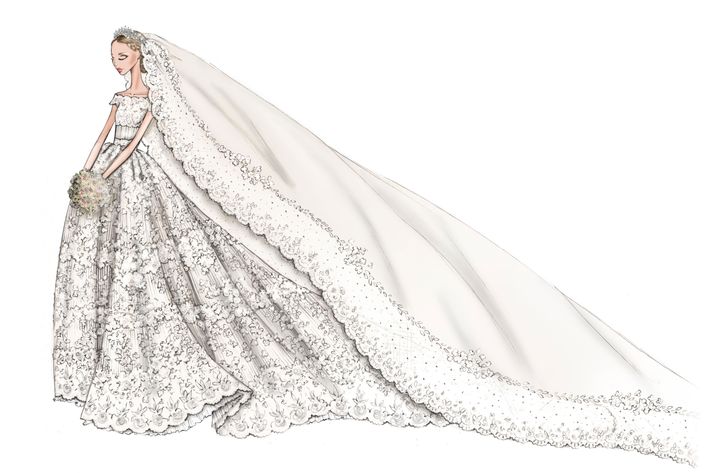 Her new husband is Christopher O'Neill, a New York–based financier who has declined to have Swedish citizenship for the time being and thus will not be given a royal title. The couple says they will continue to live in New York "due to current obligations," but "will not exclude the possibility of moving to Sweden in due course."