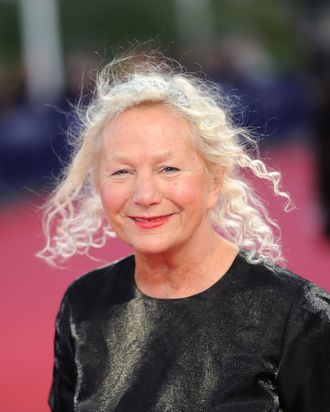 Agnès b. designer and namesake, Madame Agnes Trouble has always taken an anti-designer's design sensibility. After being discovered by Elle while shopping in a Paris flew market, she launched her brand and created a new kind of unfussy chic that counts Yoko Ono, Natalie Portman, and David Bowie as fans. In the three decades since starting her company, the bohemian master of the understated has added an art gallery, film projects, and an unabashed pursuit of all things artistic, except, she says, actual fashion. We spoke with her about her latest project, curating a series of her favorite films this summer for the Anthology Film Archives in New York.
"For me, film is not about fashion, it's about personality," she says. Her attraction to shiny personalities has led her to form friendships and mentorships with artists, auteurs, musicians, filmmakers, and other bohemian it-kids. Though her film has been the central passion in her diverse portfolio. In 2009, she cofounded a film production company, O'Salvation Films with Spring Breakers director Harmony Korine and later started a second company, Love Streams (a tribute to Cassavetes) to produce her own movies, including the forthcoming Je M'appelle Hmmmm, which she wrote and directed. From July 10-21 the Anthology series Agnes B. Selects will showcase ten of her favorite films. "I'm happy to be able to show these films to people. People need to know more about cinema and fabulous movies."
When did you first fall in love with the movies?
I started going to to the cinema when I was 16 with my husband Christian Bourgois — we would go see a Godard as soon as it came out. These films made an impression on me. I found personalities or characters that showed me how to be stronger or less shy and to see life from other points of view. Cinema, like literature, does a lot for us. It was a formative time for me.
You chose ten movies for Anthology Film, why did you select these?
Some of them came right to mind. Ken Loach's Family Life made an impression on me me. I saw it in 1971 when it came out and loved it very much, I still care a lot for the young girl in the film. These movies were all very important to me, but I think most of them have a very particular character. Almost crazy. Or people think they are crazy but they're just different from others. I like different. I like character. I like to watch people who dare to be themselves. It's a way for me to understand life.
What movie inspired you the most?
The Love of the Blonde from 1965. The main character is in a boarding school, and she's so bored. The movie starts with her at night, whispering [whispers in French] like that.  It's beautiful. It's not a big story, but it's wonderful.
So many of these movies are all about the avant-garde, does it still exist?
There will always be avant-garde people, I'm sure. Or at least I hope. David Lynch and Harmony Korine are very much in the avant-garde.

Are there any modern day movies that you're as emotionally attached to?
Trash Humpers moved me very much. It's beautiful, it's crazy. It's a great movie. It's a piece of art. I love Harmony Korine. He's a great friend of mine and I love his movies.
Do you want to be an actress?
I never dreamed to be an actress. But I've dreamed to be a director. And I did it! I'm making my first movie. I wrote the story, I directed it, I helped with the editing. I did the whole film from a to z, really.
What is your movie about?
I wrote it long time ago. Maybe twelve to fifteen years ago. I wrote a little novel  and now it's going to be a movie. It's about a girl who escapes from her home because she's unhappy. It's both social and humanistic.
Does fashion play a part in the movie?
No! My movie is a tragedy! I didn't even think about it. I went and got unique clothes from the flea market — a red coat for the man and a red shirt for the woman. I prefer the films that aren't too à la mode from one time. The film looks old quickly.

Which director best understands the relationship between fashion and cinema?
Hitchcock. The fashion is about a precise woman, a silhouette, a precise look.  It's crucial in the composition and the image of the film. The woman have to be just so. I love Hitchcock women. They are all beautiful always.
Can I watch any of these movies on Netflix?
Oh, go to cinema of course! It's only two hours of your life. Go experience the film.