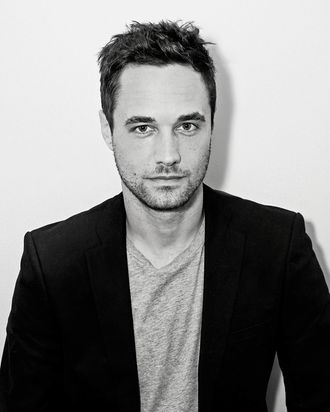 Nathan Bogle.
Photo: Courtesy Photo
Although Nathan Bogle was one of the original co-founders of Rag & Bone's menswear line in 2004, he left shortly after it rose to prominence in 2006 and is now barely a footnote in its history. In an interview with the Aesthete, he declines to say much about his departure from the brand, but admits that he "was kind of burned out"* and took several years off before figuring out his next move: launching a new men's line, Jardine, named after his great-grandfather.
The clothes themselves sound nice, with pared-down shirting, fitted pants, and chunky knits for fall, but the label's best ad is Bogle himself, who — in addition to being very cute — has worked as a sustainability advocate, chef, model, and designer, in that order. When he was in his twenties, he was discovered in Thailand by a French taxi driver, who gave him a list of modeling agencies and told him to give it a shot. (He was booked by Louis Vuitton and Armani before he retired.) During the six years between Rag & Bone and Jardine, he went to culinary school, worked in advertising, and even tried his hand at screenwriting.
He eventually plans to expand Jardine to womenswear, but in the meantime, his men's stuff is well worth a look … as are pictures of Bogle in general.
* This quote has been changed from its original version, per a correction on The Aesthete.