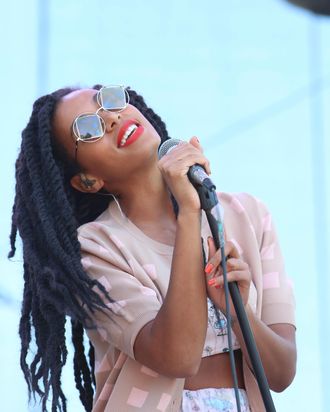 Photo: Michael Hurcomb/Corbis
Over the weekend at Bonaroo, Solange Knowles took to the stage wearing a muted pastel crop top and skirt ensemble. It was summery and sweet. But her lip and nail color choices kept the overall look from appearing too saccharine. As neighbors on a color wheel, red and orange are meant to play well together; many opt to keep them apart for fear of going too bold. They are, after all, the main hues found in blazing flames and most hot sauce labels.
While we can't be sure of her exact product choices, Knowles's electric orange polish looks a lot like RGB's Monarch, while her lip color appears to have the matte, pigment power of the all-time beauty classic, Nars' Red Square Velvet Matte lip pencil. Non-matchy-matchy looks aren't a novel idea, but we can't help but draw attention to a nail and lip pairing that can hold its own against a head full of mesmerizing hair twists.