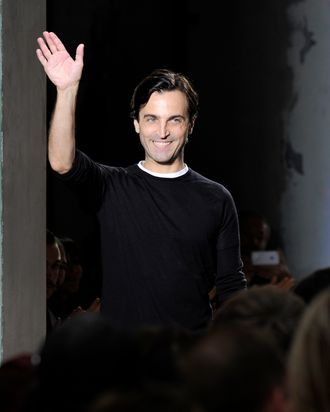 Photo: Giovanni Giannoni/Corbis
Balenciaga is reportedly suing its former designer, Nicolas Ghèsquiere, for "breach of duty of confidentiality," according to French business magazine Challenges. Their allegations supposedly stem from that interview Ghèsquiere did with System magazine back in April, in which he said he'd been "sucked dry" by the house before his departure last November, among other things:
Over the last two or three years it became one frustration after another … There wasn't really any direction … It was really that lack of culture which bothered me in the end. The strongest pieces that we made for the catwalk got ignored by the business people.
Reps for Balenciaga and its parent company, Kering, wouldn't comment on the lawsuit to British Vogue, but it is very common for outgoing employees to sign contracts saying they won't bad-mouth their former jobs. Et tu, Kristen Stewart?