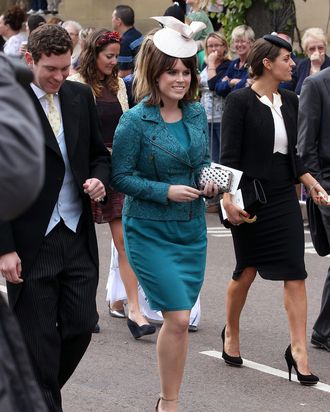 Princess Eugenie and Beatrice.
Photo: Danny E. Martindale/Getty Images
Some excellent news on this hot, sleepy Tuesday: Princess Eugenie is reportedly moving to New York! (Or so says both the Daily Mail and the Post, so do with that what you will.) We thought the first quasi-royal to set up shop over here would be Pippa, if anyone, but a legit princess is more than welcome. To review: Eugenie, 23, is the daughter of Prince Andrew and first cousin of Princes Will and Harry; she is probably best known for that wonderfully absurd hat she wore to the royal wedding. She and her sister Beatrice, who are almost always pictured together, once ran a red light in a Union Jack–emblazoned Mini Cooper during a royal engagement in Germany.
Eugenie's reason for moving is that she's apparently getting a job here. You see, although Eugenie is sixth in line for the throne, she's not quite special enough to qualify as one of the "working royals" who gets paid to represent Britain, so she's set her sights on "real" employment. According to the Daily Mail's source, "She is determined to be a working woman with a full-time job."
Said job will reportedly be at Paddle8, an online auction house that specializes in "benefit auctions in collaborations with non-profits," according to its website. The start-up was co-founded by Aditya Julka and British hottie Alexander Gilkes, who is chummy with the royals. Not that plenty of companies wouldn't fall all over themselves to give Eugenie a desk and bask in the ensuing press coverage. We can already picture the Town & Country cover!
So, where will she live? Will she break up with her upper-crusty boyfriend, the fantastically named Jack Brooksbank, who works in the "gastropub trade"? And, most important, what will she wear to work?