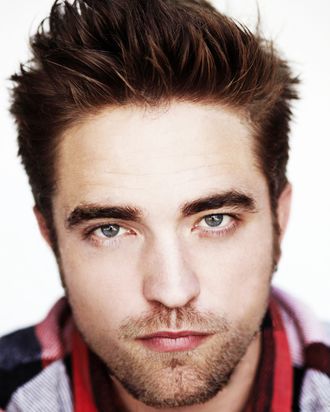 Those rumors about Robert Pattinson for Dior were right after all! First reported by E! last October, the actor was said to have signed a deal for three years, estimated to be worth around $12 million. Although Dior quickly denied that any such contract was in place (yet!), it was already too late to squash people's imaginations, which were already running wild with the idea of R-Patz spritzing his shirtless body with … anyway. A few months later, British tabloid the Sun revived the rumors with a sexy account of R-Patz's supposed Dior shoot.
The advert sexually explicit… [and] pushing the boundaries of what you can get away with in advertising.

Robert is topless for part of it and kissing one of the models with tongues… There's another scene where he takes part in a foursome in various states of undress… According to the people on set, he didn't take much persuading to get into the role.
With tongues! Well. Today Dior announced that the actor will front their new men's fragrance ads, but here's all they'll say for now:
Today we are excited to announce that he will join the privileged circle of Dior faces. Photographed by American artist Nan Goldin and filmed by French director Romain Gavras, this new Dior Homme communication campaign is currently broadcast exclusively in Europe (except UK) and Asia (except China and Japan).
Could it be that they're avoiding the U.K. because of the notoriously puritanical Advertising Standards Authority, who tend to ban steamy ads like the one we hope this is? So far, this disappointingly respectable portrait (above) is all we have to go on.