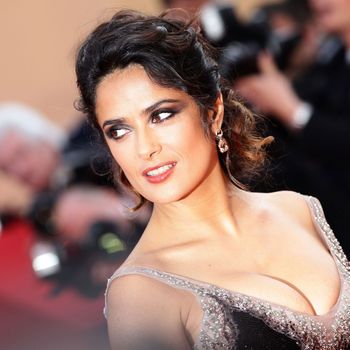 Photo: Vittorio Zunino Celotto/Getty Images
In an interview with InStyle, 47-year-old Salma Hayek discussed aging, clothing, and the fact that she has so far refrained from unleashing her full capacity for sexiness:
I know people have always thought I was beautiful, but I have never tried to be as beautiful as I can be. I could do a lot more—exercise, or not eat dessert. Or not drink alcohol. I could make bigger efforts. I don't think my first priority in life has ever been beauty. It's a little bit of a rebellious spirit in me. There is more to me than looks, of course. I think if you are afraid of getting older, you age faster.
If Salma Hayek's current appearance is effortless, then can you imagine the sexy terror that would occur if she did put forth effort? It would be a public-health hazard. Think of the people who would sustain injuries tripping all over themselves every time she walked down the street.
Meanwhile, Salma says she wears leather because "my husband loves when I wear it," and seems to understand that the quality of her breasts at age 47 defies logic: "When I turned 40, I started thinking, 'This is the last year,' whenever I'd wear a strapless dress. I always thought you can't wear them after a certain age, but I'm still getting away with it."