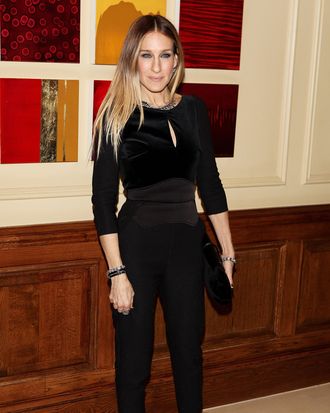 Sarah Jessica Parker.
Photo: Dave M. Benett/Getty Images
After stepping down from her creative director role at Halston two years ago, Sarah Jessica Parker hasn't included "designer" in her many slash-jobs for some time now. But that's changing: come 2014, she's launching what Vogue deems "a serious shoe collection" (not a joke, apparently), with Manolo Blahnik CEO George Malkemus as her business partner. Named "SJP," the range will consist of shoes and sandals for $200 to $300, bags for around $700, and trench coats, sold exclusively at Nordstrom. 
Parker, who has clearly come a long way since the days of her Bitten line for Steve & Barry's (memories!), tells Vogue that much of her footwear experience comes from … yes, Carrie Bradshaw: "I got to play that role, I wore a lot of shoes … and by default I learned an enormous amount." An education that can be boiled down to one word: Manolos.